Why Apple's October Event Will Likely Be a Boon for Artists and Creatives
Expect an event that shows off more technology to be creative.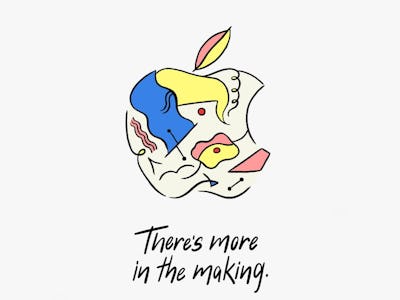 Apple confirmed on Thursday that it will host a fourth-and-final event of 2018 later this month, where it is expected to debut a range of new hardware ranging from iPad Pros, Macs, Macbooks, and the long-awaited AirPower. Within minutes, social media was flooded with screenshots of the invitations, which had varying takes on the Apple logo.
Related Apple October Event Stories:
The October Apple event is set for Tuesday, October 30, at the Brooklyn Academy of Music in New York City.
Unlike the singular, black and gold iPhone keynote invitations, there seemed to be an endless variety of colorful Apple logos on the invitations sent out Thursday. Some seemed like subtle nods to famed artists, like Pablo Picasso or Claude Monet, suggesting the company will announce new products centered in the design and creative market.
The message for the October Apple event is "There's more in the making," signaling that Apple may debut products aimed at creativity and expression.
Here are a few variations of the invitation.
This will mark the fifth October event that Apple has hosted since the 2012 release of the iPhone 5.
Apple October Event: iPad Pros, Macs, MacBooks, AirPower?
The iPhone keynote left a lot unanswered and this October event is expected to make up for it.
A majority of leaks suggest a new line of iPad Pros will be unveiled. They could be thinner and sleeker than ever, have facial recognition capabilities, have no headphone jack, a new Apple Pencil, and the ability to output 4K HDR content.
The company's desktop computers are also expected to receive a refresh, according to reliable rumors. The all-in-one iMac hasn't received a big update since 2012, making it a big contender for display and processor improvements.
The Mac Mini has been exactly the same since its 2014 launch, meaning it could be next in line for a long-awaited hardware upgrade. All of these predictions come from Apple analyst Ming-Chi Kuo and scoopster Mark Gurman.
Kuo also noted that a budget-friendly MacBook Air could be in the works. The slender laptop was last updated in 2017, but a cheaper model could set Apple to compete with the low-cost Chromebook.
All of this, and potentially more, will be revealed the day before Halloween.