Apple October Event: What a New Line of iMacs Could Look Like
This is a long time coming.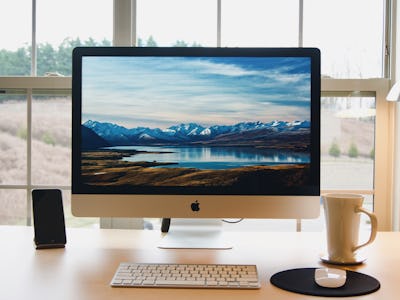 Unsplash / Patrick Ward
This year marks the 20th anniversary of Apple's all-in-one desktop computer, the iMac. The device is unrecognizable from what was first unveiled in 1998, but since 2012 its design has stagnated.
Update, October 18: Apple announces October 30, 2018 as date for event. Read more and get the details.
Updates have only brought tweaks to the display or processor improvements, like the introduction of the "Retina 5K" screen in 2014. Yet its signature 5-millimeter display, black bezels, and aluminum borders have all remained unchanged. Could the iMac's long-established aesthetic be altered at a potential October Apple product launch? It's still unclear whether the company will host another media event in 2018, though the laundry list of unaddressed products has people guessing.
That, coupled with the fact that none of its desktop units have received any love this year has led to the prediction of one final event on October 30. This fourth and final announcement could mean the release of the long-awaited AirPower wireless charger, upgrades to the iPad Pro, MacBook Air, and, potentially, the iMac.
One of a few credible rumors suggest that this year might just be another incremental upgrade for the desktop, though, annoyingly, there could still be a notable price bump due to an issue with one of Apple's biggest chip suppliers.
Apple October Event: iMac Display and Processor Improvements
The iMac is likely destined for an upgrade, but like years past it'll just involve the display and its processor. Renown Apple analyst Ming-Chi Kuo stated that a "significant display performance upgrade" and a processor refresh are in the pipeline for the desktop.
The display changes could come in the form of vastly improved refresh rates. All of the 2017 iMacs come with 60-hertz screens — meaning the screen can redraw the entire image it's displaying 60 times a second. But all of the 2017 iPad Pros come with a 120Hz display, double the refresh rate of iMacs. An improvement of this level will make for buttery smooth browsing on the desktops 21.5-inch screen.
Potential processor improvements would likely involve retrofitting iMacs with an Intel Core i9 chip. Apple has already made use of this processor in its recently announced MacBook Pros, though this upgrade caused the laptops to overheat. Desktop units traditionally have a more breathing room to cool off, so i9s could be exactly what iMacs need to take them to the next level of computing.
Apple October Event: iMac Price Increase?
However, since Apple and Qualcomm had a falling out Intel has been the company's main processor supplier. This comes at a time when Intel is suffering a chip shortage, which analysts at J.P. Morgan predict could hurt fourth-quarter personal computer shipments, reported CNBC.
Since Intel is having trouble keeping up with demand, an upgraded iMac could see a slight price bump from its $1,099 starting price tag.
Splasher updates for the iMac aren't completely out of the realm of possibility, but all reliable rumors suggest it'll be another "S Year" for Apple's 20-year-old desktop.