iPad Pro Concept Render Shows How iOS 13 Could Supercharge the Tablet
Kévin Eugène has come up with a big idea.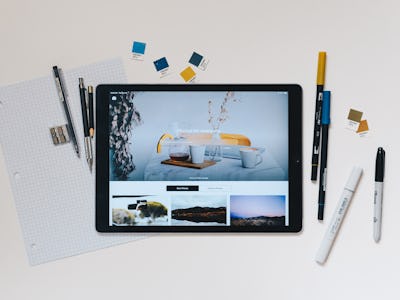 Unsplash / Kelly Sikkema
The iPad Pro is rumored to be unveiled next week, and a new concept render shows how Apple's next tablet could shine. The design, produced by web developer Kévin Eugène, looks at how Siri improvements and the removal of the home button could transform the device into a multitasking powerhouse.
The concept, published on Medium blog UX Collective, builds on a redesign Eugène refers to as iOS Mogi. Instead of the voice-activated Siri assistant taking up the whole screen, he envisions a design where the interface slides in from the right and displays results, enabling users to continue working and interact with the results, say by dragging and dropping a photo into the current document.
The idea also looks at how rumored changes to the iPad Pro could make the tablet more useful. Apple is expected to unveil an iPad at its October 30 event in New York that uses the iPhone X as a design startpoint, ditching the home button in favor of a smaller bezel and face recognition. The swiping interface used on the iPhones could transform the current "Split View," where two apps run side-by-side, into a "Flow" view where multiple apps run side-by-side and the user moves between them by swiping along the bottom of the screen.
Here's how Siri works in this concept:
And here's how "Flow" may work. It uses the iPhone X bar at the bottom as its starting point, where users swipe up to return to the home screen and swipe left to right to move between recent apps. On the iPad, the bar could become a scroll bar to move across the "flow":
The system also works with the existing iPad multitasking layout, where users can navigate their "flow" from a birds-eye view while also switching to all recent apps:
Apple has yet to announce its future plans for iOS, traditionally doing so at the annual Worldwide Developers' Conference in the summer. iOS 13 is rumored to offer big design changes after the rather conservative iOS 12 this year. An interface similar to Eugène's concept, using the iPad pro efficiently, could come soon.