Apple October Event Invitations Have a Big iPad Pro Hint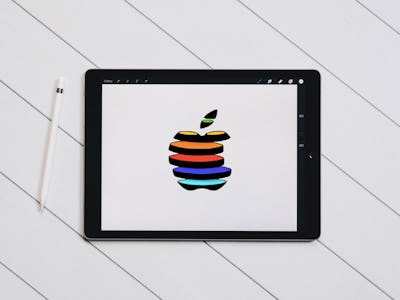 Danny Paez
Apple sent invitations for its October 30 product launch on Thursday. They are colorfully designed, beautiful, and — like any good invitation — only offer mere hints of what's in-store. However, the aesthetic of these invitations aligns with one of the most rumored products Apple is expected to drop in 2018: New iPad Pros.
For months, consumer tech enthusiasts seen leaks of the high-end tablet with slender bezels and a thinner body. Recent filings with the Eurasian Economic Commission suggest that a few iPad Pros are in the works, along with a new Apple Pencil, which could connect to the tablet much like AirPods. And a report earlier in October stated these would be complemented by Face ID and 4K HDR support. All of this awaited features could come to fruition on Halloween eve at the Brooklyn Academy of Music in New York.
Who Uses an iPad Pro?
iPad Pros are already geared toward artists, designers, and creatives. The devices' landing page describes them as melding the power of a PC with the simplicity of a drawing pad. There's no other Apple product that fits the artistic qualities put forth by Thursday's invitation quite like the iPad Pro, suggesting that the October 30 Apple event will primarily be about a refresh to Apple's premium tablets.
New iPad Pros: How Will Adobe Further Connect with Apple?
Many of the Apple logos on invitations sent to press appear like they have been sketched on iPads using an Apple Pencil and fine-tuned with editing software, like Photoshop. This week, Adobe and Apple announced that a full version of the image editing software will be available on iOS.
Up until now, iPad users have only had access to a fraction of Photoshop's capabilities through apps like Sketch or Mix. This new partnership will revolutionize what kind of designing and editing is possible on the iPads. What better way to usher in a new software launch than with complimentary software that is specifically geared towards people who make use of Photoshop already?
New iPad Pros: Reminiscent of March's iPad Event
New iPad Pros wouldn't be the first tablets Apple released this year. In March, the company launched a 9.7-inch iPad with Apple Pencil support. This announcement pivoted the devices to the education market, carving out room for the iPad Pro to appeal to professionals.
The invite for the March event even looks similar to the October event's banner. While it's more simplistic than the invitations released on Thursday, it still has a handwritten quality to the Apple logo. This could be a subtle nod for more iPads to come.
Mark your calendars iPad Pro fans, an upgrade to your favorite tablet is almost certainly going to happen.