7 Electric Vehicles That Take Infotainment Centers to the Extreme
Mercedes-Benz, Lexus, and Tesla are taking EVs into the future with huge screens, AI, and in-car gaming.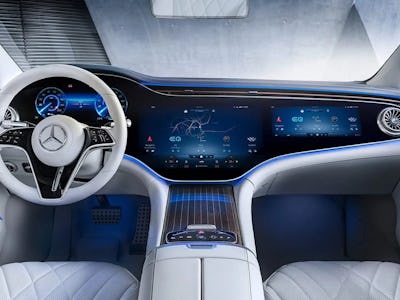 Mercedes-Benz
Cars are a lot more than just cars these days. They're computers; they're living rooms; and if you've got the money to spend, they're enviable entertainment centers.
And like any good living room on wheels, the evolution into something more revolves mostly around a screen — in this case, the in-car infotainment center. Naturally, as automakers push into the future, the infotainment game is being elevated too and there is arguably no better proving ground for next-gen infotainment than electric vehicles.
Don't believe me? You don't have to. Below are some EVs with the cutting-edge hardware and software to make your living room look antiquated.
Mercedes-Benz EQS Hyperscreen
There are a lot of wild infotainment displays out there, but Mercedes-Benz is arguably at the tip of the spear when it comes to pushing boundaries.
At the center of the automaker's vision of infotainment is the MBUX system. There's a lot to unpack in the MBUX, but highlights include driver-customized "moods" that control aspects like lighting and drive modes in addition to gesture controls that allow drivers to wave their hands for some in-car commands.
Probably the crown jewel of Mercedes-Benz infotainment, however, is the Hyperscreen, a 56-inch wide single panel of curved glass that makes up the main infotainment display of EVs like the EQS.
While the Hyperscreen — which is actually three separate displays that are merged to look like one contiguous is essentially the screen to end all screens — might not be for everyone, you can't deny it definitely feels like the future.
2024 Lexus LM
Self-driving might not be online yet, but that hasn't stopped automakers from treating cars like an honest-to-god living room. Just take a gander at the Lexus LM (short for Luxury Mover), which gives mini-vans the desirable appeal they deserve.
As is the case with most vans, the perks of the Lexus LM are realized in the backseat cabin area where passengers can enjoy a full-on 48-inch HD widescreen which has three modes: full screen, cinema, and one where the screen can split into two separate ones. Two HDMI ports also allow you to connect phones or tablets if you want to cast content onto the display.
Do you need a screen that big to enjoy watching the latest Marvel installment on the fly? No, obviously not. But hey, if you've got the money and care enough about your on-the-go cinema experience, then why not?
Sony Afeela
The ascension of EVs has brought some unlikely players into the game and Sony might be the most splashy of them all. Naturally, given this is Sony we're talking about, its Afeela prototype — which debuted at CES 2023 — is taking some cues from the company's background in consumer electronics.
In Afeela's case, that means (duh) a PlayStation integration that allows drivers to grab a DualSense controller and game on the go via the EV's sprawling infotainment screen. There are a lot of drawbacks (Afeela uses PS Remote Play to stream games via 5G, for one), but it's still the only car with a deep PlayStation integration.
And I think parents will agree that pacifying kids with games for a peaceful road trip is a dream worth pursuing.
Lucid Air
If you're going to sell a luxury EV, you better have a luxury infotainment center to back it up. For Lucid, a flashy upstart that sells premium long-range EVs, that mantra translates to what it calls the Glass Cockpit.
According to Lucid, its Glass Cockpit is a "34-inch, 5K floating screen that sweeps around the driver, curving like the cockpit of a jet." Taking a look at its infotainment offering, it's easy to agree. And as cool as the instrument panel and main navigation display are, it's the retractable center panel, which allows more granular control of things like audio and navigation, that really steals the show.
Cadillac Lyriq
If you've been picking up on customization as a theme, high marks for paying attention. Cadillac's high-end Lyriq EV leans into that element of next-gen infotainment with the ability to customize apps on its 33-inch glass pane like you would on a smartphone.
It may seem like a minor perk in the scheme of wild infotainment displays, but in-car UI can be a frustrating experience, and the more granular your EV's software is, the less of a nightmare it will be trying to orchestrate your menus while driving.
And luckily, if you're not a fan of using your hands to carry out commands, an integrated Google Assistant activated via a push-to-talk button can take the reins.
Tesla
It's impossible to mention EV infotainment without mentioning Tesla. Not only did the EV titan popularize the giant tablet-like display, but it got fully weird with its features.
Inside a Tesla, you can play games like Cuphead, sing karaoke, browse the web, use a "biodefense" mode that filters all incoming air, or activate "Sentry Mode" which detects and records "suspicious" activity with the car's external cameras.
Yes, Tesla's features may be a bit gimmicky, but it's hard not to give them credit for showing just how far infotainment can really go.
BMW iDrive
Speaking of customization, BMW takes the idea of "modes" to a new level. In its iDrive system — which is featured in cars like its all-electric i4 — a feature called My Modes allows drivers to customize up to 10 different parameters of the car to their specific liking.
While a "Sport Mode" and "Efficient Mode" are presets that let drivers adjust traits like acceleration, handling, and energy usage, a "Personal Mode" gives control over all the applicable parameters like engine sound, lighting, and more.
And what's next-gen infotainment without a little AI? On that front, BMW offers its own Intelligent Personal Assistant, a voice-controlled AI that can tweak things like in-car climate, lights, or even help simplify navigation.