6 of the Wildest EVs From Auto Shanghai
Entries from BYD, Xpeng, Polestar, and Mercedes made Auto Shanghai a fruitful show for EV enthusiasts.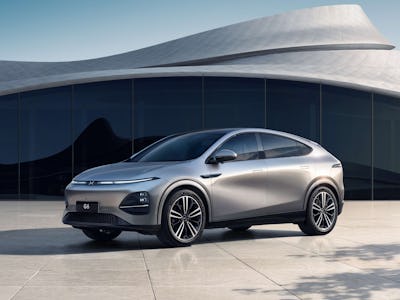 Xpeng
Has there ever been a better time to be an enthusiast of electric vehicles? That's the rhetorical question I've continuously asked myself for several years now, and the answer, year after year, is always, "Definitely not."
This year is no different and several high-profile offerings unveiled at this year's Auto Shanghai show are proof that the market is only getting bigger and more diverse.
It's already been a big show with a lot to unpack, but below are some of the absolute best EVs to emerge from behind the curtain and give us a glimpse at an exciting electric future.
6. XPeng G6
China now has arguably the world's most robust electric vehicle market, and as such, electric cars like those coming from companies like XPeng are making strides past world leaders like Tesla.
For proof, look no further than the recently unveiled XPeng G6 SUV, which boasts some very impressive initial specs — chief among them, a nearly 470-mile range and charging speeds that will knock your socks off.
According to XPeng, with just 10 minutes of DC fast charging, the G6 will be able to gather 186 miles of charge thanks in part to an 800V architecture. And to sweeten the deal, a starting MSRP will reportedly land between $30,000 to $40,000 according to XPeng.
Like lots of other Chinese EV brands, XPeng has no current plans to bring the G6 to either European or North American markets — a shame considering the price-to-performance ratio.
5. Polestar 4
There are lots of bold design choices a brand can make — BMW's kidney grille or Hyundai's decision to go boxy with the Ioniq 5 for example. But Polestar decided to bring its coupe-like SUV, the Polestar 4, one step further by completely nixing the car's back window.
In place of a rear window, Polestar, which is owned by Volvo, is substituting a rear-view camera that shows real-time footage behind the car. The goal, according to Polestar, is to create a more immersive backseat experience while driving. Plus, it can creepily ogle passengers in the backseat.
Outside of bold design, the highest performance trim will also boast 544 horsepower and come with an estimated range of more than 300 miles on a charge.
If proof of China's rapidly burgeoning electric vehicle market wasn't apparent enough, here's another piece of ammo on that front: the Polestar 4 will release in China first later this year, with North America and Europe to follow in 2024.
4. Lexus LM
It sounds unlikely that a minivan would make a list of this show's wildest EVs, but believe me when I say that Lexus' LM — "luxury mover" — is about as wild as they come.
Highlights from this living room on wheels include a 48-inch HD widescreen in the back seating area and Mark Levinson 3D surround sound. Oh, and a "Climate Concierge" feature that "adds microscopic water particles to the airflow which can inhibit viruses, bacteria and allergens, while also having a moisturizing effect on human skin and hair."
It's all very extra for a van of any variety, but as my colleague Ray Wong notes, soccer moms and dads deserve a cool ride, too. Lexus' over-the-top van doesn't have a current price tag but will debut in Europe first for a sum that's likely more than $124,000 if previous models are anything to go by.
3. BMW i7 M70
When BMW called the i7 M70 its "most powerful" model ever, it was a clear indication we were in for something flashy.
The i7 M70 has two motors and a max output of 485kW on top of 660 horsepower. That translates to a 0 to 62 mph of about 3.7 seconds. To make sure you really feel the performance aspect of the i7 M70, BMW even allows drivers to select sound profiles that "create an individual, holistic user experience of sound, lighting mood and graphics on the BMW Curved Display, shaped by the driver's mood and driving style."
It all sounds a little over-the-top, but that's exactly what anyone spending well above six figures on an EV would want. Consider the i7 M70 to slot in among the Maybach range of luxury electric vehicles.
2. Mercedes-Maybach EQS 680 SUV
Speaking of Maybach, Mercedes-Benz's iconic luxury brand release its first-ever electrified car during Shanghai's auto show, and the product is just as extravagant as you might imagine.
Backseat passengers in the EQS 680 SUV will enjoy calf massagers (for the Executive Rear Seat Package Plus only) as well as shoulder and neck heating, two thermal cup holders, a shelf for the MBUX rear tablet, and four fast-charging USB-C ports, two HDMI interfaces for using a laptop or other device. Add-ons include an optional center console with two folding tables, a refrigerator compartment, and silver-plated champagne flutes.
The EVs range is estimated at around 372 miles, but let's be honest, this is a Maybach we're talking about and as long as it's enough to get from the pied-à-terre to the executive board room, it should suffice.
1. BYD Seagull
On the opposite end of the spectrum of the electric Maybach is BYD's Seagull, which debuted in Shanghai for — get this — an $11,400 starting price tag.
That's quite a bargain for an EV — even a subcompact SUV. The Seaguall uses BYD's Dolphin platform, so it should get around 190 miles on a charge (the average EV gets about 200 miles) and is powered by a single front-mounted electric motor.
It's prices like this that have helped to make BYD arguably the biggest global player in EVs (yes, that includes Tesla). It's also why the Seagull received 10,000 orders on the first day of its availability.
Consider this a formal call to North American auto companies to step up their game. China's EV market isn't just more diverse, it's cheaper too.