Polestar's New Electric SUV Replaces Rear Window With a Real-Time Camera
The Polestar 4 is a rear window-less electric SUV that balances high-tech with high performance.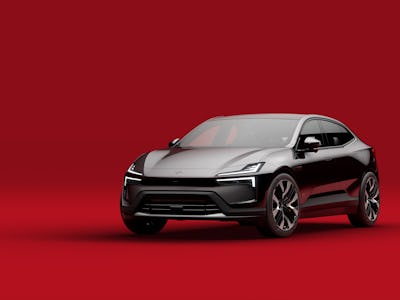 Polestar
Have you ever thought, "Boy, this car is great, but I wish it didn't have a rear window?" Well, if you have, Polestar now has the perfect EV for you.
The Polestar 4, is the automaker's newest electric SUV and makes some bold design choices — notably, nixing a rear window entirely in favor of a camera-based approach to seeing anything that's not visible through the windshield and side mirrors.
It sounds outlandish, but Polestar says it has a very good reason for eliminating what many consider a pretty standard part of most daily drivers. Per a statement from Maximilian Missoni, Head of Design at Polestar:
"With Polestar Precept we previewed a stunning new occupant experience by removing the rear window and pushing the rear header, which plays an integral safety role, further back. This means that now, rear occupants can have a unique experience in our SUV coupé."
Naturally, no rear window means no rear-view mirror. Instead, Polestar is replacing a rear-view mirror with a high-def screen that broadcasts real-time footage from a camera mounted on the roof. Polestar says the approach is meant to give a wider field of view than that of a standard mirror. My worst-case brain of course conjured the idea of some kind of glitch in the feed or camera preventing you from seeing, but I suppose rear-view mirrors aren't a perfect solution either (especially during inclement weather).
But why stop there? According to Polestar, the digital feed from the camera can also be switched to allow drivers to ogle any backseat passengers. Weird, but okay!
It's also worth noting that rear windows, while pretty standard in most vehicles, aren't actually a prerequisite for driving either logistically or legally — if you've ever seen or driven a box truck, you know what I mean.
Outside of the camera, the Polestar 4 will also have a heads-up display with a 14.7-inch projection area and a "snow mode" that switches the text readouts from white to black. Google Assistant, Google Maps, and Google Play, are all built-in and the car's infotainment system centers on a 15.4-inch landscape-oriented screen.
Polestar 4 Specs
Rear window-nixing aside, the Polestar 4 also makes a splash in the performance department. Polestar says its coupe SUV is the fastest of any production car that it's made yet, with a 0-62 mph of about 3.8 seconds and maximum power output of 544 horsepower.
Polestar says both dual- and single-motor versions will be available — single-motor versions will have rear-wheel drive while dual-motor versions will have optional all-wheel drive.
An optional long-range version will have a 102 kWh battery which is estimating about 348 miles on a single charge. Cost will be on the premium end, with a target launch price of $60,000. China will get first dibs with a launch slated for the end of this year, and Polestar is planning a Europe, North America, and Asia Pacific, release for early 2024.