Mercedes-Benz's First Electric Maybach Has a Built-In Fridge and Calf Massagers
Does luxury motoring even exist without Maybach?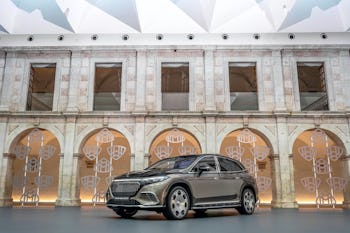 Mercedes-Benz
EV luxury comes in quite a few forms now, but one voice, that of Mercedes-Maybach, has been conspicuously absent from the conversation — that is, until now. The EQS 680 SUV is the luxury carmaker's first-ever EV entrant and, as expected, it spares no expense in the pursuit of extravagance.
As you might expect from any Maybach, the EQS 680 SUV comes adorned in copious amounts of Maybach branding, including logos on the D Pillar, Maybach branding on the steering wheel, and even puddle lights in the driver's seat and backseat as an extra flourish.
Two-tone paint is available and the electric SUV features Maybach's special radiator grill, which, despite being unnecessary on an EV, given the lack of a combustion engine, definitely sells the Maybach vibe.
While the exterior keeps in stride with Mercedes-Benz's EQS line, the interior is where the luxury really starts.
Beauty on the Inside
One of the most immediately noticeable design choices is the spaceship-like command center — at the center is Mercedes-Benz's Hyperscreen, an end-to-end infotainment display that fills the SUV's cockpit.
Naturally, given this is a Maybach we're talking about here, it's the backseat that really shines. Amenities for backseat passengers include calf massagers (for the Executive Rear Seat Package Plus only) as well as shoulder and neck heating. Again, this is a Maybach, and naturally, most anyone fortunate (read: wealthy) enough to ride in one is probably not doing the actual driving part themselves.
On that note, rear-seat amenities also include two thermal cup holders, a shelf for the MBUX rear tablet, as well as four fast-charging USB-C ports, two HDMI interfaces for using a laptop or other device. There's also an optional center console with two folding tables, a refrigerator compartment, and naturally, silver-plated champagne flutes — I mean, duh.
For passengers, not even the cabin air can be subpar. An air quality sensor filters air automatically when in circulating air mode while a HEPA filter siphons incoming outside air of fine dust, small particles, and pollen, according to Mercedes-Benz.
There's also an activated carbon in the HEPA filter and cabin filter that scrubs air of sulfur dioxide and nitrogen oxides for an odor-free ride. All of this is automated — if the car's sensors detect that the outside air is of low quality, its system can make suggestions to either close the windows or sunroof.
Then there's the "sustainable" leather, which according to Mercedes is not preserved with salt — a choice that it says saves about 99 pounds of salt per vehicle with leather seats.
Additionally, the automaker says upcycled products like compostable flowerpots, insulating foams, and decking boards are made from the by-products of tanning. Some parts and components are also made from "secondary steel" and recycled aluminum, according to Mercedes.
EQS 680 SUV Price, Range, Release date
While there's no current real range, Mercedes-Benz says its EQS 680 SUV will have an output of 484 kW and a WLPT provisional range of up to 600 kilometers — about 372 miles.
And as for pricing? Mercedes-Benz hasn't offered anything solid. This is a Maybach, after all, so we're talking six figures. The EQS 680 SUV is due to be released in the fall, and more pricing information should be available around that time. Fortunately, for most of us (read: non-billionaires) there are plenty of other affordable EV options if going all-electric is on your agenda.