2023 Chevrolet Bolt EUV Review: The Ultimate Bargain EV
After a troubled launch and a painful recall, the Super Cruise-enabled Bolt EUV is the right-priced EV for the masses.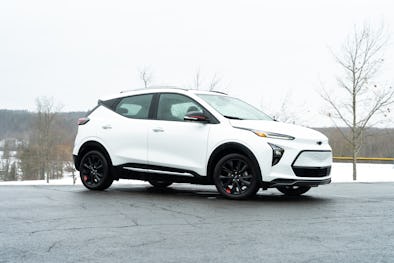 Photograph by Tim Stevens
The original Chevrolet Bolt didn't have the best of launches. Overlapping with the Chevrolet Volt hybrid, anyone lacking professional enunciation skills usually had to identify the car twice when speaking. It was also somewhat ambiguously segmented, officially a crossover SUV but really more of a hatchback.
So, what would Chevy call the slightly bigger, slightly more SUV-like follow-up? Meet the Bolt EUV. It's a name no more catchy than its predecessor and, sadly, its launch was even more complicated, marred with battery fires and a lengthy, problematic recall right in the middle of the pandemic's worst supply chain woes.
That's a lot of strikes against a car right out of the gate, and it's a real shame, because the Bolt EUV is perhaps the best value in all of electric motoring. With the recall in the rear-view, the EUV is a serious contender.
When we talk about value with EVs we have to start with the range per dollar equation. While 247 miles of EPA-rated range won't win the Bolt EUV any ribbons at the local EV state fair, a starting price of $27,800 might. Compare that to a Tesla Model Y, which goes 279 miles but starts at $49,990, and you'll see the appeal.
However, looking only at the numbers misses the nuance. The EUV is a fun, frugal machine that's perfect for people with smaller families or large dogs — particularly those of a senior variety. The floor on the second row of the Bolt EUV is not only totally flat, it's quite low to the ground, making rear-seat ingress and egress easy for older puppers or anyone with limited mobility.
That said, there's not much else to get excited about back there, other than a pair of USB ports (one A, one C) for charging and seat heating for chilly mornings. Up front there's a lot more to process, starting with Chevrolet's infotainment system built into the 10.2-inch LCD smack dab in the middle of the dash. The interface here is basic but a big step up compared to Chevrolet's earlier efforts. A four-by-two grid of icons dominates the experience, and fully customizable if you like, including pages of widgets to display navigation highlights and connected devices.
Jumping into wireless Android Auto and Apple CarPlay takes just a tap while a physical home button makes getting back out just as simple. That button sits between a physical volume knob and a second physical knob used for scrolling through big lists or zooming on the map.
While you can have full access to climate controls through the touchscreen as well, a row of physical buttons and toggles control things like cabin temperature plus heating for seats and steering wheel.
The rest of the controls are found on that steering wheel; Chevrolet's typical set of buttons on the front for adjusting cruise control, toggling voice commands, and cycling through the various display modes on the 8.0-inch integrated virtual gauge cluster. None of the views are particularly evocative, but all the information you want is there. On the back of the wheel you'll find GM's typical set of four little buttons. They're intended for adjusting volume and skipping tracks but are far more often used for giving your fingers something to fiddle with when you're bored on the highway — or at least they used to be.
Spend an extra $2,200 for Super Cruise and you can do whatever you want with your hands. The Bolt EUV makes hands-off driving a breeze: just set the cruise control then hit the Super Cruise button on the wheel with your left thumb. If all looks good, a bar of lights on the steering wheel turns green and you're free to take your hands off the wheel.
In my time with the Bolt EUV I spent hours on the highway cruising along, arms across my chest like a genie, looking down at my poor fellow commuters and their unfortunate need to steer their vehicles.
I still needed to pay attention, though. The Super Cruise system makes sure of that, an infrared camera perched just above the steering column watching you watch the road. Look away too long, gaze longingly at that exit sign promising fresh donuts, and you'll get a warning blink on the LED strip embedded into the top of the steering wheel. That'll quickly escalate to a red flash with an irritated (and irritating) chime, telling you to take over control immediately.
Pay attention, obey the rules, and Super Cruise works great. Though only enabled on certain major roads, its availability has expanded immensely since I first sampled the tech years ago. In the Bolt EUV, Super Cruise worked flawlessly on every highway I tried and plenty of byways, too.
Perhaps the best part is how well the system works with you. There's none of the jerky wrestle of disengagement like with Tesla's Autopilot. The Bolt EUV is happy to let you take over for a moment and then seamlessly resume steering duties when you release the wheel again.
I even got to test Super Cruise in windy conditions with remnants of a storm from the previous day blowing leaves and debris across the highway. I was nervous about letting the system drive, but it quickly earned my trust, automatically compensating for heavy crosswinds. It was disconcerting to watch the wheel turning so actively just to maintain a straight path, but maintain it did, straight and true.
Off the highway, the Bolt EUV drives well. It's torquey and fun around town, running out of steam at about 40 miles per hour but putting a smile on your face from light to light. Handling is relaxed and comfortable and the ride quality is great for a car of this category and this cost. Most important: it's wonderfully quiet. No excess wind or road noise here.
In the real world, I averaged 3.3 miles per kilowatt hour, for a theoretical maximum range of 215 miles from the 65 kWh battery pack. That's short of the EPA estimate, but I was testing in very cold weather and I wasn't being gentle with the throttle. Anyone driving in moderate weather with a more moderate right foot should do much better.
It must be said; the design is certainly on the moderate side, too. The Bolt EUV has a sort of anonymous shape with some vaguely futuristic styling cues that I'd say are clean and good, but I heard from plenty of others who find it eminently boring. The white color here perhaps contributes to that, though it does pair well with the red and black details.
On the inside, the design is busy despite the monochrome sea of black vinyl and plastic. The many textures, shapes, creases, and folds are too much in an era where the trend is toward simpler interiors. But, the seats are comfortable, the surfaces feel durable and easy to clean, and there's plenty of storage, like a handy cubby down between the seats for your bag or your baguette. There's 16.3 cubic feet of storage is available in the hatch, jumping to 56.9 with the rear seats folded.
Again, the Bolt EUV starts at $27,800, but this higher-trim Premier with its leather interior, adaptive cruise, and a few other perks start at $31,700. Add on $2,200 for Super Cruise and $2,495 for the sunroof and premium Bose sound system (which is among the most bass-forward sound systems I've ever experienced) and a few other accessories, plus a $995 destination charge, and the final price of this car is $37,885.
I think the sweet spot on the Bolt EUV is a little closer to the base model, but even loaded like this one you're coming in $12,000 cheaper than the cheapest Model Y. Sure, it's slower, lacks all-wheel-drive, and won't go as far on a charge, but unlike the Tesla, its advanced driver assistance system actually works and works well.
If you're looking for a practical EV on a budget that will still make you smile, the Bolt EUV is a great choice.