GM Is Using Netflix To Spread the EV Gospel
In a partnership neither company describes as product placement, GM EVs will be deliberately featured across Netflix's shows and movies.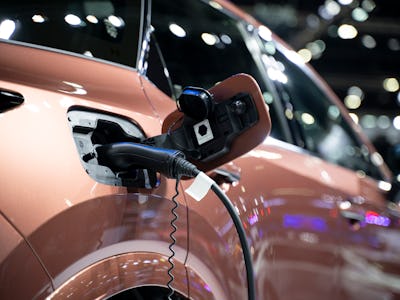 seksan Mongkhonkhamsao/Moment/Getty Images
An electric car could roll through your next favorite Netflix show. Netflix and automaker General Motors (GM) announced a new partnership that will see Netflix "increase the presence of EVs in Netflix-produced shows and films, where relevant, while also taking steps to enable more sustainable productions."
Specifically, upcoming seasons of Love Is Blind, Queer Eye, and Unstable will include "the Chevrolet Bolt EUV, GMC Hummer EV Pickup, and Cadillac LYRIQ respectively," Netflix explains. The companies plan on launching the partnership with a series of ad spots during this year's Super Bowl LVII.
It's All About Reach
If you want to "give electric vehicles the stage they deserve," as Netflix and GM claim, putting them in front of Netflix's subscribers probably isn't a bad idea. As of the company's last earnings call, Netflix has beat expectations by adding 7.66 million paid subscribers, bringing the company to a grand total of 231 million paid subscribers at the end of 2022. That's before the inevitable backlash to Netflix's planned password-sharing program, but it's not an insignificant audience for GM.
It can't be overstated that media really can make things cool and desirable. While shilling cars isn't as beneficial for the environment as say, encouraging people to ride and support public transportation, it's still good, in a nebulous sense.
Many people already want EVs
But what's weird about this whole idea is electric vehicles are only becoming more popular. A national survey conducted by Consumer Reports last year revealed that some 36 percent of U.S. adults would consider buying an electric vehicle. A third of the 331.9 million people in the country is pretty good.
If anything, the issues facing EV adoption have more to do with availability and price rather than awareness. GM, and plenty of other manufacturers, have faced parts shortages that have made making cars difficult. Limited availability has also driven up prices, and that's not even considering how expensive many of these cars are to begin with. GM has plans to release an affordable, "around $30,000" Chevy Equinox EV in the next year, but until then, options might be too small or entirely impractical for the average SUV-loving car buyer.
Business deals can always have an effect on the content decision of media companies — such is the nature of product placement. But when a company that makes as much different stuff as Netflix announces a partnership like this publicly, it is interesting to consider just how a future Netflix show or movie might feel where an electric vehicle (made by GM) is the norm. It's not dissimilar from the almost alternate universe Apple TV+ shows exist in, where Apple is frequently the default, despite how popular Windows PCs or Android phones are. GM and Netflix could soon be making a pocket universe of their own, one that's good for the environment sure, but not quite reflective of reality just yet.