Everything Wrong with Netflix's New Password-Sharing Rules
Netflix's crackdown is impossible to fairly enforce.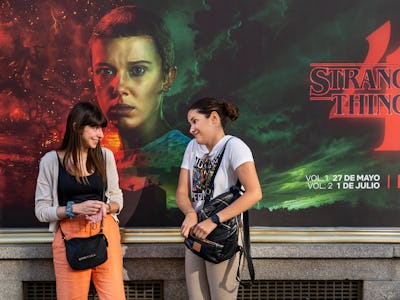 SOPA Images/LightRocket/Getty Images
Netflix has always prided itself on being a streaming service that has something for everyone: The Crown for the moms, Stranger Things for Gen Z, and Black Mirror for people who use the word "doomscrolling" unironically. But apparently, Netflix didn't mean everyone, just everyone who lives in a house with someone who pays the bills.
In order to crack down on password sharing, Netflix is rolling out a new protocol requiring devices to "check in" with a home Wi-Fi network or risk being blocked from the platform entirely. But under basic scrutiny, this policy simply doesn't make sense.
Netflix's proposal shows an awareness that things happen and people are displaced from their homes all the time: customers can request a code that will allow their devices to access the library for seven consecutive days. But how does that stopgap affect people who travel for more than a week? In fact, what about those who split their time between two locations?
If you're someone who splits their time between cities or works away from home for weeks at a time, you could potentially get locked out of your own Netflix account despite not sharing your password with anyone. Though you can apparently update your primary location, there's no clue for how often you can do that. So if you wanna keep up with your Orange is the New Black binge while on a weeks-long cross-country road trip, you may want to re-evaluate.
But that's not even the most infuriating part of the rules. Every year, millions of teenagers leave their households for college, a time of partying, studying, and watching Netflix instead of studying. With these rules, these young adults would be responsible for their own Netflix account as they are no longer part of their original household.
Netflix claims to have thought of this too — if you want to add someone to your account who doesn't live with you, you can add them to your fee and pay a premium. The other person would have a login of their own, but it would bill to another account. It's quite the downgrade for the sociology major just trying to watch the next season of The Circle.
The biggest flaw in Netflix's plan is that it has a very narrow view of "households." Much like how families take many forms, households could be a married couple separated by work commitments, children traveling between their parent's houses, a family with one member in a residential rehab program, or even a group of friends who live together.
To use language Netflix understands — if the Byers are a family and a household, then Will should be able to stream his favorite shows while in the Upside Down. The competitors in The Great British Baking Show should be able to bone up on the archives while away from home. The Bluths may live in multiple houses, but they are definitely one giant family unit and would easily share one account.
But it seems like Netflix's attitude is more akin to Lucille's almighty words: "It's one Netflix subscription, Michael. What could it cost, ten dollars?"