Stranger Things Season 4 review: The Netflix hit recaptures the magic of Season 1
The new season of Stranger Things is a stylistic return to form.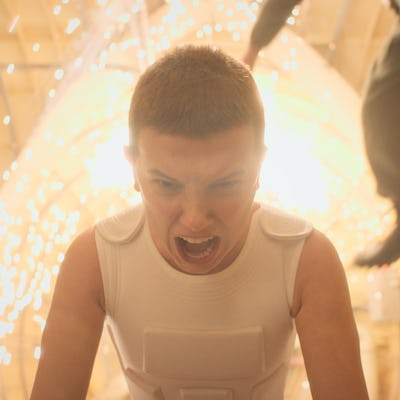 Netflix
The scariest thing we all have to endure is growing up.
In the new, unexpectedly engrossing season of Netflix's Stranger Things, the kids of Hawkins have all grown up in awkward ways. They're taller and lankier; their hair shags in their weary eyes. They've all saved the world and faced down monsters (thrice now), but nothing compares to the challenge of surviving high school.
As both the characters and real-life actors of Netflix's hit supernatural series matured, so has the show itself. In a remarkably plotted and well-paced fourth season, Stranger Things marks a new level of sophistication in its technical and creative visions. The power Stranger Things had before is back, in full force, as a return to form of what made it special in the first place. It's sinister as it is funny and as playful as it is sincere. This is not just another season of a popular TV show, but a piece of mainstream art with something to say: Growing up sucks, and we all have to do it.
That isn't a new idea. You can watch a John Hughes flick and come away with the same message. But Stranger Things tells this story with loads of confidence and convinces you it's maybe more insightful than you'd expect.
Be Kind, Rewind
Months after a giant spider monster tore through the mall, our heroes have split up. The enigmatic Eleven (Millie Bobbie Brown), who finally has a grasp on verbal human communication, has moved to California with Will (Noah Schnapp) and his family. While the sun shines brighter and the air is drier on the west coast than in midwestern Indiana, the kids are still left in the cold. Eleven is picked on for no reason other than she's an easy target while stray hints indicate Will is questioning himself on deeper levels. (This isn't a spoiler at all, but Brett White of Decider published a piece two whole years ago, and let's just say I haven't stopped thinking about it.)
Meanwhile, at home, the other kids are similarly adrift. Mike (Finn Wolfhard) and Dustin (Gaten Matarazzo) have found a gaggle of outcast super seniors who also love heavy metal and Dungeons & Dragons, led by Eddie Munson (Joseph Quinn), an eccentric armored in denim vests and studded leather. Lucas (Caleb McLaughlin) has found his kind too, with the school's basketball team. Max (Sadie Sink) is almost entirely on her own, left to wrestle with the loss of her brother.
"Its more prevalent horrors are ripe with tension, gore, and invention."
The older sect of the crew — Jonathan (Charlie Heaton), Nancy (Natalia Dyer), Steve (Joe Keery), and Robin (Maya Hawke) — get a shorter end of the stick in the story, but it's no less relatable. They all stand at the crossroads of where they've been and where they're going as young adults on the cusp of college. (Except Steve, who is doing fine rewinding tapes of Fast Times at the video store.) And of course, there is David Harbour's Hopper, who endures a harsh Russian "summer" at a remote, mountain prison.
It's not Stranger Things without a monster. This season, its name is Vecna, and unlike years past, Vecna is intelligent and calculated, more so than the beastly, Lovecraft-esque terrors seen before. Vecna knows who these kids are, and Vecna knows how to psychologically torture them. His reign of terror is mean and swift throughout Hawkins, but because no one believes in monsters (for some reason), hysteria brews with unmistakable evocations of the Satanic Panic of the era.
Recapturing the Magic
Of the nine episodes set for Season 4, seven were provided to journalists for review. These first seven chapters are meaty, not just in story but in length. They're all a solid hour-long (get comfy), but unlike most instances of Netflix bloat, there's hardly excess. Everything matters, however big or small. The extra time appears to benefit the Duffer Brothers and their arsenal of directors and editors, with more careful and deliberate storytelling.
Likewise an impressive technical display with tilted camera angles and movement, including a standout one-take during a shootout, echoes the show's unmistakable B-horror inspirations without calling much attention to itself. Sure, you can pinpoint this or that reference to Carrie and A Nightmare on Elm Street (by the way, Robert Englund absolutely steals his cameo role), but there's still originality in Stranger Things. One can argue homages are derivative, but this show has always been good at turning familiar iconography into something unto its own.
Season 4 in total feels stronger and more put-together than either Seasons 2 and 3, which often buckled under expectations to recapture the magic of its magical first season. More money in the budget doesn't always equal better production, but one can see just how the show made good use of its jaw-dropping $30 million episode budget. How much was funneled into things like VFX or into Covid-19 protocols is unclear, but Vecna is a damn impressive sight to behold.
In a lot of ways, Season 4 is Season 1 reincarnate. It's not the same story nor a retread, but the skillful ways Season 1 married the novelties of its period setting and thematic inspirations — from the works of Stephen King to John Carpenter — feels inexplicably alive again in Season 4. (Of the genre masters it pays homage to this year, its biggest debt is owed to the late Wes Craven.) Stranger Things has evolved, if rather awkwardly, but it hasn't forgotten its roots.
Stranger Things wasn't the first big period hit of the Peak TV era, but it was one of the most popular, broadly appealing shows. For two seasons Stranger Things struggled to maintain its reign amidst a streaming TV ecosystem. While few viewers will convert back with Season 4 if they burned out long ago, the show makes a solid case for its continued life. The next fifth season is confirmed to be its last, but Stranger Things is hardly short on fuel. There are two more episodes of Season 4 the press have yet to see (and both have feature-length runtimes). So, there's still more to come, whether you like it or not and whether you're ready or not.
It's unknown if Season 4 will stick the landing, but for now, it's nice to say it: Stranger Things is great.
Everything has matured in both abstract and literal ways, whether it's the young cast's talents or the tighter writing and focused direction. The show has always had a semblance of darkness teeming beneath innocence, but its more prevalent horrors are ripe with tension, gore, and invention. It's not quite at the same level as contemporary horror masterworks from Robert Eggers or Ari Aster — that's cutting-edge 21st-century stuff — but Stranger Things knows how to imitate its influences without mimicking them. After all, growing up is finding out what you're about. How scary is that?
Stranger Things Season 4, Volume 1 will premiere on Netflix on May 27. Volume 2 arrives on July 1.