GM's Ultra Cruise May Usher In the Self-Driving EVs We've Been Waiting For
At the very least, it's another viable competitor to Tesla's Autopilot system.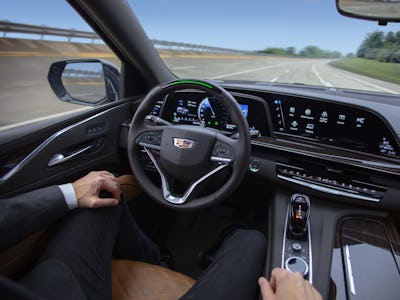 Cadillac
GM debuted its latest and greatest hands-free driving system called Ultra Cruise, which improves on its existing offering. While the new Ultra Cruise covers more North American roads and has more tech than the GM's current Super Cruise system, it's still Level 2 self-driving meaning that you have to be ready to take over driving at any time.
Still, it's a more polished system from GM to compete with Tesla's Autopilot, which has largely dominated the automated driving conversation. However, more automakers are trying to enter that conversation, developing their own self-driving systems.
Ford has introduced Blue Cruise, while Mercedes-Benz just earned its Level 3 self-driving certification in the U.S. Even Volvo is working on its own hands-free driving system that uses lidar technology. It's clear carmakers are eager to capitalize on the self-driving market, particularly since there have been some mishaps with Tesla's offerings.
A BLEND OF CAMERAS
GM has tacked on several layers of self-driving technology to have its newest system earn its "Ultra" branding. The system uses a lidar system behind the windshield, a new computing system, and nearly a dozen short- and long-range radars.
The long-range cameras have eight megapixels and will be able to detect objects like traffic signs, traffic lights, other vehicles, and pedestrians, while the short-range cameras can create a radius of up to 90 meters to sense if there are pedestrians crossing the street or vehicles in adjacent lanes. Combined, this gives GM vehicles the ability to create a 360-degree, 3D representation of their surroundings.
When available, the Ultra Cruise system will offer hands-free driving in 95 percent of all driving scenarios since it will cover two million roads in North America and Canada. While hands-free, it still requires you to pay attention to the road. GM ensures this by installing a driver attention system with a camera located above the steering column that keeps an eye on the driver's head position and eyes, relative to the road.
COMING TO THE CELESTIQ
GM is going to start off the Ultra Cruise with the Cadillac Celestiq, which is expected to enter production towards the end of the year. Eventually, GM wants its Ultra Cruise to cover nearly all public roads in North America. After the Celestiq, GM says it wants to bring its updated self-driving system to more of its vehicles, particularly those at different price points, and more regions.
With so many automakers offering their own take on automated driving, we're not so far from a future where every EV has to have some form of hands-free driving to be viable. We're still in the early stages of this revolutionary technology though, meaning there's still a real opportunity to earn the accolade of the safest self-driving system.