Why Mercedes-Benz's Self-Driving Milestone is a Big Deal for Autonomous Cars
The German automaker is the first to receive level 3 driving certification in the U.S.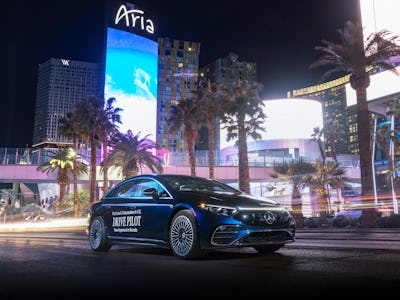 Mercedes-Benz
We're inching toward a driverless future, but we're still not quite there yet. And despite fairly slow progress, Mercedes-Benz did just become the first automaker to receive its Level 3 Autonomous Driving certificate in the U.S.
The Level 3 certification for automated driving is still pretty far from fully self-driving cars, but it's still a major step toward that future. After the shaky start from Tesla and its Full Self-Driving system, we were left disappointed considering the ongoing safety investigations. On the other hand, Mercedes-Benz seems to be taking the slow and steady route in its approach to self-driving cars.
HOW MERCEDES-BENZ' DRIVE PILOT SYSTEM WORKS
First off, Mercedes-Benz's Drive Pilot system — which earned a certification in Nevada — can only take over driving up to 40 mph "on suitable freeway sections and where there is high traffic density," according to Mercedes-Benz. Once activated, the system takes over control of the vehicle's speed, distance, and staying in lane, while also being able to brake, react to traffic situations, and dodge any upcoming dangers. It uses LIDAR and a camera in the rear window, complemented by microphones that can listen for emergency vehicle sirens and sensors that can feel how wet the road is. The Drive Pilot system also uses a positioning system that's much more precise than GPS.
Since it's only Level 3, you still have to be ready to take over control as the driver. Once the Drive Pilot is engaged though, you can do other things like use the main infotainment display, which would normally be blocked off while driving. With all that, having Drive Pilot limited to 40 mph still feels like it hampers the overall functionality. Let's just keep in mind that this is likely just the first step in Mercedes-Benz's long journey of finally reaching fully automated driving.
WHEN WILL CONSUMERS GET TO USE MERCEDES' DRIVE PILOT?
Mercedes-Benz is planning to release the 2024 S-Class and the EQS sedans with the new Drive Pilot system. These two models are expected to be delivered to customers in the second half of the year.
As for the certification process, Mercedes-Benz says it has plans to expand the Level 3 certification to California, having already filed the paperwork with the state's authorities.
THE RACE FOR AUTOMATED DRIVING
It's hard to not mention Tesla's Full Self-Driving when talking about automated driving systems. It's certainly the most notable, but it has also hit a fair amount of speed bumps. Tesla's automated Full Self-Driving system is still Level 2 and is currently in beta, costing $99 per month or $8,000 upfront.
Looking at other car brands, GMC has its SuperCruise feature that's on a few vehicles including the Hummer EV. However, SuperCruise is also currently just a Level 2 system, meaning you have to constantly supervise the system. The same is true of Ford's BlueCruise, which is also a Level 2 driver assist system and not something that can fully take over driving.
HOW SOON WILL WE HAVE ACTUAL AUTONOMOUS CARS?
While we were all hyped for a future where you could surrender full control over to an automated driving system, we're still pretty far from that. Mercedes-Benz's milestone is notable, but it's still just a Level 3 certification. When people think of self-driving cars, they're likely imagining Level 4 and Level 5 systems where the automated driving features don't require the driver to ever take over.
Still, Mercedes-Benz's certification is a sign of good things to come. Hopefully, this means Tesla, GMC, and Ford will feel the pressure and add to the competition, and maybe, with a little luck and some genius innovations, we'll be able to catch up on work, TV shows, or even sleep, all while getting from point A to point B.