The 2024 Lexus LM Has a Gigantic 48-Inch Display for Watching Movies
The hybrid electric minivan is basically a first-class plane cabin and a private movie theater on wheels.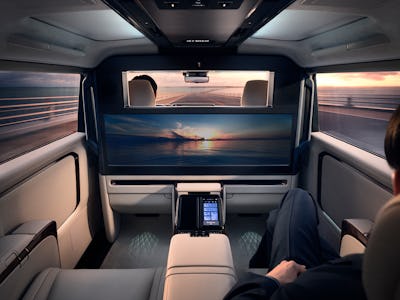 Lexus
I can't say that I've ever looked at a minivan and thought to myself "That is one sick ride." And that mostly applies to the newly announced Lexus LM hybrid electric minivan (sorry, "luxury mover" per Lexus) and its questionable grater-looking front grille. But I can't argue with its massive 48-inch HD widescreen, cabin lighting, and Mark Levinson 3D Surround Sound. These comforts do make me look at minivans (hybrid electric or not) differently, though. Maybe soccer moms and dads can have cool rides.
First-Class Cabin on Wheels
Whether you think the Lexus LM's "spindle" grille is a crime or not (BMW's guilty of the same offense with its oversized "kidney" grilles on its electric cars, oink, oink), there's no denying the interior of the hybrid minivan oozes of luxury — comforts plucked straight out of a first-class plane cabin.
Available in models with four or seven seats, the former includes reclinable "large, airline-style seats that can be made fully horizontal." I'm no C-suite executive, but sign me up! Woodgrain trims and a Japanese herringbone pattern made with a 3D printing process sound fancy.
In front of the reclining seats made of "L-aniline leather" is the centerpiece: a 48-inch widescreen HD monitor for watching movies. It's got three modes: full screen, cinema, and can split into two screens. Dual HDMI ports allow direct output from phones or tablets; content can also be cast to the display.
Complementing the personal theater is a Mark Levinson 3D Surround Sound system with 23-speaker array (21-array in the seven-seater) that should drown out external noise. And if that's not enough, the cabin has active noise-cancellation that helps reduce ambient noise. What?!
Other plane-inspired luxuries include cabin lighting, window shades, and auto-temperature that, um, heats and cools the minivan interior using an "infra-red surface temperature" scanner that monitors passenger temperatures. The built-in neck heaters sound great, but in today's world, the "Climate Concierge" feature which "adds microscopic water particles to the airflow which can inhibit viruses, bacteria and allergens, while also having a moisturizing effect on human skin and hair" might be more appealing.
Oh, and there's a fridge. Cars with fridges are a hot trend these days. And if minivans come with kitchen sinks, there might as well be a fridge to store cold ones.
Coming to Europe
You can read all about the size of the wheels, the hybrid electric powertrain, and more on Lexus' website. Sadly, Americans will not be able to experience this kind of luxury minivan when the Lexus LM releases in Europe this fall. Ah, America, land of really big cars, but lagging in quality-of-life comforts.
No pricing has been announced for the Lexus LM and all of its fancy options. Based on previous models, though, you can probably expect a price tag of over £100,000 (around $124,000). Not cheap, but to feel like you're flying on wheels? The clientele that can afford this kinda minivan will tell you the feeling is priceless.