Ram's Massive Electric Truck Will Have an Equally Massive Range
Big range from a massive 229 kWh battery.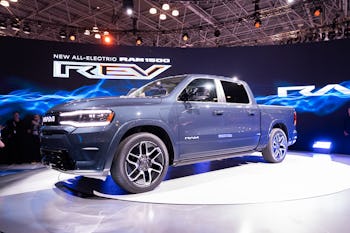 Photograph by Tim Stevens
The EV truck wars are finally starting to heat up, and anyone in the market for a silent, practical, emissions-free rig sometime in the next few years is going to be the winner. Rivian was first out of the gate with its stellar R1T, then came Ford with the impressive F-150 Lightning. It looks like Chevrolet's Silverado EV may be next to market, coming later this year, but Ram might just have given enough reason to hold off on buying anything until 2024, releasing almost all the details on the 2025 Ram 1500 REV. It's early, but it looks like this may be the best of the bunch.
We'll start with the most significant and eye-opening figure, which is the range. Ram is promising a whopping 500 miles on a charge for the 1500 REV thanks to the optional 229 kWh battery pack. That's almost 100 kWh bigger than the biggest pack available in the F-150 Lightning, more than twice the size of the battery pack in a Tesla Model S. Surely this means the 1500 REV will be remarkably heavy and also quite expensive, but given we don't have any pricing information yet, we'll just have to wait on drawing any conclusions there.
BIG BATTERIES
Even the smaller of the two battery packs in the 1500 REV is 168 kWh, promising 350 miles from the base truck. That is mighty impressive, but the high-spec standard features don't end there. Every 1500 REV will feature air suspension, not only providing what should be great ride quality but also enabling adjustable ride heights. Struggle to climb up into tall trucks? Don't worry, it'll drop down for ease of ingress. Want to do a little rock crawling? It'll hike itself up high for better ground clearance off-road. Suspension is multi-link at the rear, and while some truck purists may lament the lack of a live rear axle, based on the numbers we're seeing here this Ram won't disappoint.
That adjustable ride height also helps the truck's aerodynamics, and while the notion of an aerodynamic truck feels a bit like an oxymoron, Ram is quoting a 0.34 coefficient of drag. Believe it or not, that's close to that of your average SUV and is a big part of how this truck manages to go so far on a charge.
Mind you, you won't be challenging those maximum ranges when utilizing the truck's 14,000 pounds of maximum towing or 2,700 pounds of payload. That's 4,000 pounds more than the F-150 Lightning can tow and 700 pounds more payload capacity. Those numbers are enabled by a new platform called STLA, which at its core uses your traditional body-on-frame design like most trucks. However, Ram says those frame rails have been widened to make room for either of the two gigantic battery packs that will be available.
STYLING
And what about that body? On the looks side, it's a little disappointing to see that the production 1500 REV looks nothing like the 1500 Revolution concept that showed up at the 2023 CES to much fanfare. That truck had some massive, pronounced fender flares plus a dramatic angled cut-out where bed meets body. That looked like a truck from the future. There are a few styling cues that carry over to the production model making its debut today, but by and large it very much just looks like a standard truck.
The headlights, meant to evoke a tuning fork, are LED and provide the strongest signature design element, flanking the big Ram on the nose that lights up just for extra flare. The power bulge on the hood is a bit gratuitous considering there's no motor under there, but from there on back there's nothing really to get excited about.
POWER
So what is under the hood? A whopping 15 cubic foot frunk, one foot bigger than that on the F-150 Lightning. The 1500 REV will also have Ram's RamBox fender storage compartments, each with power, lights, and drains. A 7.2 kW power source is also available in the bed, capable of powering your home or even charging another EV, but it remains to be seen whether Ram will offer the kind of metered, demand-based home power solution that Ford offers with the F-150 via its partner Sunrun.
Still, the Ram 1500 REV should have no problem powering a job site through either the bed or the secondary, 3.6 kW power outlet up in the frunk. Running power tools, providing lighting, recharging batteries, or plain ol' tailgating, the 1500 REV should shine.
When it comes to powering the truck itself, the 1500 REV will have a dual-motor setup, front motor able to disconnect itself at the axles to reduce rolling resistance and, again, boost range. At the back, an electronic locking differential will help keep this thing moving through the muck. Total power from both motors is 654 hp and 620 lb-ft of torque, delivering a 0 - 60 mph time of 4.4 seconds. Ram says this is its quickest, fastest, and most powerful truck ever.
It might also be the company's most comfortable. Right now Ram is only showing off a Crew Cab configuration, with plenty of room for five adults. Ram will offer five different trims, each adding more features over the previous. It starts at the work-focused Tradesman and leads up to a new, top-shelf Tungsten trim, which includes a 23-speaker Klipsch sound system and a massive, 14.5-inch central touchscreen. There's also a second, 10.25-inch touchscreen integrated on the right for the front passenger, through which they can access media, navigation, or even plug in a PlayStation 5 through an HDMI port. The virtual gauge cluster behind the wheel is 12.3 inches, and if that's not enough pixels for you, there's even a heads-up display.
UConnect 5 powers the infotainment experience, offering both Apple CarPlay and Android Auto wirelessly. To ensure your phones stay charged, the RAM 1500 REV offers not one but two wireless charging smartphone pads and a whopping six USB ports for the front occupants. Another four are out back for rear-seat passengers.
Ram hasn't confirmed all the active safety features yet, but the 1500 REV will have a hands-free driving mode thanks to an advanced monitoring system that can tell if you the driver are paying attention even if your hands aren't on the wheel.
In other words, this thing is loaded, and while Ram hasn't given us any indication of pricing yet, expect the 1500 REV to be priced like the premium truck that it appears to be. Ford recently raised the prices of its F-150 Lightning to start at $63,474 for a base XLT SR. How the Ram 1500 REV will compare remains to be seen, and with Lightning prices going through the roof it's anyone's guess what those will cost by next year. But, with the 1500 REV set to enter production in 2024, it may make sense to start saving now.