Ram's electric pickup truck concept is also a mobile movie projector
We still won't see an actual production model electric Ram until 2024, though.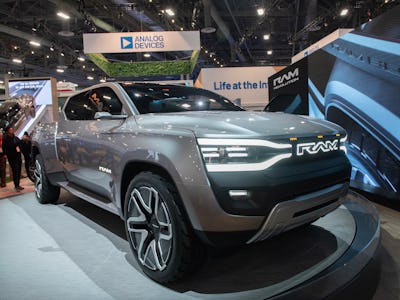 Martin S. Fuentes / Inverse
Ram is officially fashionably late to the EV market with its electric pickup truck concept. Ram debuted its Ram 1500 Revolution BEV Concept at CES 2023, after initially delaying its premiere at the Los Angeles Auto Show a couple of months ago.
It's still just a concept, but it's a comprehensive look into what Ram has been working on with EVs. The bar is certainly higher these days with more car makers offering innovative all-electric pickup trucks. Although the final production model Ram 1500 EV may not look or perform exactly like this concept, we're hoping that some of the features introduced here will eventually may it to the rest of Ram's lineup.
Extra roomy interior — The Ram 1500 Revolution BEV Concept was built on Stellantis' STLA platform that allows for full-size EVs. The conceptual pickup certainly fits the full-size category since it has a cab with second-row seating but also can create a third row with jump seating. Ram excluded the B-pillar from the pickup's design, going for a more open interior that's flexible enough to be made into more cargo space or an impromptu workspace.
Ram says the electric pickup can get up to 100 miles of range in around 10 minutes of 800V DC fast charging up to 350 kW. We don't have any range specs yet, but the Ram 1500 Revolution will use two electric drive modules and can come in an all-wheel drive option.
Ram shoved a bunch of tech features into its conceptual pickup, like an AI virtual assistant, AR heads-up display, and autonomous driving capabilities. There are also some more novel features that we haven't really seen elsewhere, including an intelligent storage app that tells you if the pickup can handle certain cargo and an exterior projector that can visually communicate info to the driver or serve as a mobile movie theater.
Coming next year — For an automaker with no EVs to its name yet, Ram is claiming a lot with its first. Ram says the 1500 BEV will be a leader in different specs, including range, towing, payload, and charge time. Ram is looking to bring a production model of the Ram 1500 BEV to market in 2024 and will drop more details on the production version in the coming months.
With Ram being part of Stellantis, we don't have to look very far to see how its sister companies are doing. Jeep is planning to release its first electric offering in Europe early this year, and Dodge has offered up its own electric concepts. Ram is going to have to go against the likes of Ford's F-150 Lightning, the Rivian R1T, and the Tesla Cybertruck, but there's still a chance that the Ram 1500 provides us with something new.
INVERSE brings you everything from the fun and futuristic world of consumer technology at CES 2023. For all the latest technology coverage from the show, go to the INVERSE CES 2023 hub.