This Electric SUV Has a Built-In Fridge To Keep Your Drinks Cold
The Zeekr X will bring some serious competition to Tesla's Model Y overseas.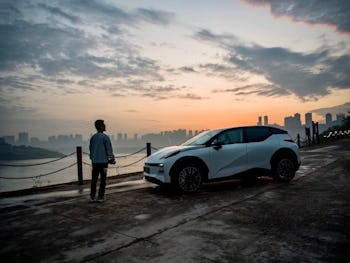 Zeekr / Weibo
Face recognition unlock, a built-in fridge, and a sliding infotainment system all sound like premium features, yet Zeekr is throwing them all into an affordable electric SUV that starts at around $28,000.
Zeekr is relatively new to the market, having only been founded in 2021. In a couple of years, the Chinese automaker has already released a sedan, the 001, and a multi-purpose vehicle, the 009. For those unfamiliar with the Chinese automaker, Zeekr is owned by Geely who also owns the more recognizable Volvo and the newer EV maker Polestar.
Zeekr's two EVs were only released in China, so Zeekr may not be as much of a recognizable brand as Tesla in North America. Still, Zeekr and its latest electric SUV are clearly looking to challenge Tesla's market share in China with a more affordable competitor to the Model Y.
KEEPING THINGS COOL
Zeekr built its SUV on Geely's Sustainable Experience Architecture platform that's also being used for upcoming EVs like the Polestar 5. The Zeekr X will run off two electric motors that give it up to 422 horsepower and 400 lb-ft of torque so it can get from 0 to 62 mph in 3.7 seconds.
That's all powered by a surprisingly-small 66 kWh battery, which gives an estimated range of 348 miles when coupled with the Zeekr X's aerodynamic design. That range estimate comes from China's standardized testing for energy consumption and emissions, and not from the European Union-based WTLP that we're used to seeing with other EV range estimates.
Those specs are still solid for an SUV, especially at that price point. Although, it's really the features that Zeekr built into the X that have us excited. As seen in a video demo posted on Weibo, the Zeekr X will have facial recognition unlock, a built-in refrigerator, a center console that slides back, a charging dock for smartphones, and a center display that slides towards the passenger side. Some of these features may be optional, but the idea of an in-car refrigerator is game-changing.
EXPANDING TO EUROPE
Zeekr is going to start deliveries for its electric SUV in June for the Chinese market. The Zeekr X will be offered in six colors and three trims: a base model, a five-seater with four-wheel drive, and a four-seater with rear-wheel drive. The base model starts at $27,600 while the real-wheel drive option tops out the lineup starting at $30,500.
Zeekr says it'll eventually introduce the X to Europe and other Asian markets, but notably didn't mention the U.S. at all. It's not likely that the Zeekr X will make it stateside considering the previous Zeekr models haven't. We can still hope that Zeekr X will help push EV boundaries in America too.