Volvo is making minivans a bigger part of the EV equation
The Volvo minivan may only be coming to China for the time being, but it would likely do very well in the U.S.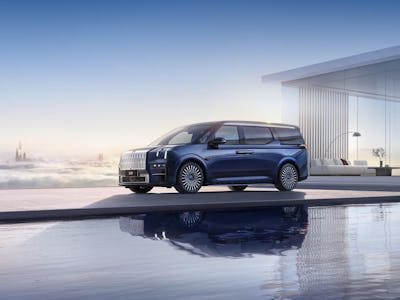 Zeekr
There's a distinct lack of fully electric minivan options out there right now, but Volvo may be changing that. Volvo announced at a media briefing that it's planning to launch its first electric minivan in the Chinese market.
The news comes through a media briefing held by Qin Peiji, president of Volvo Cars Greater China, and was first spotted by CarNewsChina. While minivans can be considered boring, the idea of one coming from Volvo is novel, especially since it will be fully electric. The closest Volvo has gotten to releasing a minivan is its EX90 SUV which can seat seven, but nothing in its lineup quite fits that minivan aesthetic.
Same platform, new design — According to the CarNewsChina report, the Volvo minivan would be based on the Zeekr 009 which uses Geely's SEA electric vehicle platform. This configuration makes a lot of sense since the Chinese car brand Geely owns both Zeekr and Volvo.
The platform means that the Volvo minivan would have a twin-motor setup with all-wheel drive, offering 536 horsepower and more than 500 miles of range. If the Zeekr 009's specs carry over, that would give the Volvo minivan plenty of range for family road trips, but also enough power to haul a full van's worth of people.
While the Volvo minivan may share the Zeekr 009's platform, it's supposed to get its own unique design. Some people may be into the boxy look of the Zeekr 009 with its massive front grille, but we're curious to see what Volvo has in store for its first minivan design.
Making minivans cool — The CarNewsChina report says that Volvo will debut an early concept of the Volvo minivan in the third quarter of the year, while production is expected to start in the fourth quarter for Chinese markets. Unfortunately, there's no word if Volvo is going to offer the minivan outside of China.
In the U.S., there aren't many options for people looking for minivans while also looking to convert to an EV. The hybrid Chrysler Pacifica comes pretty close, but it's still a hybrid at the end of the day. There are plenty of all-electric vans in the works, but these definitely are designed with commercial uses in mind. All said, there's a real opportunity for Volvo to capitalize on this neglected demographic.