PlayStation Reveals Handheld That Links To Your PS5 Over Wi-Fi
Access your PS5 games via Remote Play anywhere with Wi-Fi.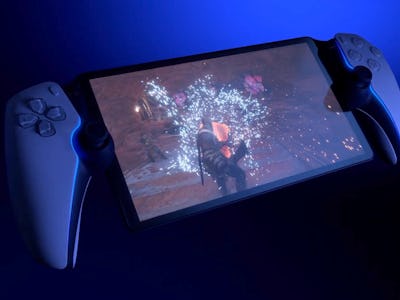 Sony
We've said it before, but handhelds are back, and Sony isn't passing up the opportunity to get some of the action. As part of the company's PlayStation Showcase today, it revealed it's been working on a dedicated handheld for streaming games from the PS5 it's internally calling "Project Q" in addition to its own PlayStation earbuds.
Unlike the Logitech G Cloud, Sony's device is focused on Remote Play, sending games directly from your PS5 rather than the cloud. It's an interesting limitation considering the popularity of services like Xbox Cloud Gaming and the fact Sony will happily let you stream cloud games to a console at home.
Project Q
Sony's new handheld project was previously reported by Insider Gaming as Project Q-Lite, and the details Sony shared today seem to line up with what leaked out then. Project Q looks like a screen slapped between two sides of the DualSense controller — inelegant, but not unwelcoming.
The screen itself measures 8 inches, putting the handheld in the ballpark of the Switch and Steam Deck. According to Jim Ryan, the president of Sony Interactive Entertainment, it also has "all of the buttons and features of the DualSense controller," meaning you'll get all the delightful haptics your heart desires. The Q can reach up to 1080p resolution and 60fps while streaming games, though that will have a lot to do with your internet speeds.
It's not clear what Project Q can do when not connected to Wi-Fi or streaming games from a PS5, but if it's like other streaming devices, it might double as an Android tablet. Sony is, after all, a tablet and smartphone manufacturer and has some familiarity with Android thanks to the Xperia line of phones.
The return of the Vita?
While certainly exciting, it would be wrong to assume this is the second coming of the PSP or even the PS Vita. Sony's still seemingly only dedicated to the PS5. Project Q, like the PSVR 2, is really another way to sweeten the console deal and use your library of games in a new way. And if anything, Project Q sounds surprisingly limited from what Sony has described so far, maybe just as niche as an expensive VR headset.
Sony didn't share a release date beyond "later this year," price, or final list of features, but did say it would share more "in the coming months."