OnePlus Pad Review: A Decent First Tablet That's Not an iPad
The hardware is great, but the software needs more work.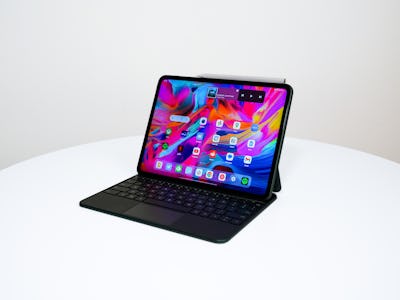 Photograph by Raymond Wong
We may receive a portion of sales if you purchase a product through a link in this article.
OnePlus really wants to be known for more than its Android phones.
Over the past several years, OnePlus has expanded its gadget portfolio to include smart TVs, smartwatches, a mechanical keyboard made in partnership with Keychron. And now its first tablet, the OnePlus Pad, is launching in the U.S. on May 8 for $479.
The tablet is an attractive package. The hardware is as premium as any iPad or Samsung Galaxy Tab. There's a keyboard, stylus, and folio case (all sold separately) to turn it into a pseudo-laptop. And that's where the OnePlus Pad stumbles a bit; the software — OnePlus' Android 13-based OxygenOS adapted from the OnePlus 11 — is limiting for multitasking. But if you're only going to do very basic tablet things like watching video or browsing the web, the OnePlus Pad might just be enough.
A Familiar Formula
From certain angles, the OnePlus Pad looks exactly like an iPad. Even the Magnetic Keyboard ($149) and Stylo pen ($99) and the way they connect (via a pogo pin and magnet, respectively) resemble Apple's Magic Keyboard and Apple Pencil. The differences are subtle: the rounder sides; metallic-spun backside; the circular camera module; the Halo Green colorway (the only shade the OnePlus Pad comes in).
The OnePlus Pad is slim, light, and clearly designed to be used in landscape mode. Its round camera bump feels weird when gripping the tablet in portrait mode. Otherwise, I can't say the included features feel like they aren't worth the price. The 11.61-inch 144Hz "ReadFit" display (2,800 x 2,000) resolution is bright and sharp; content looks great on it. The quad speakers (two on each side) can get reasonably loud. Battery life is solid at around 8 hours of mixed use based on my tests. OnePlus advertises up to 12.4 hours of continuous video, but I did not put that to the test because I am a normal human being who doesn't watch 12 straight hours of video.
As I expected, the cameras are pretty average. The 8-megapixel camera on the front is a 0.8x wide FOV, which is fine for video calls, and can digitally punch into a 1x mode for a tighter crop. It's decent. Ditto for the 13-megapixel rear camera; image quality is soft. I wouldn't use the cameras for capturing precious moments, only for "scanning" documents.
In terms of performance, the OnePlus Pad holds its own for basic tablet tasks. The MediaTek Dimensity 9000 chipset compares favorably to Qualcomm's Snapdragon 8 Gen 2 for CPU performance, but lags for graphics due to its less performant ARM G710 MC10 GPU. My usual mobile indulgences — Call of Duty Mobile, Genshin Impact, and Asphalt 9 Legends — play okay, but definitely with more dropped frames than on any of iPad or 2023 flagship Android such as the OnePlus 11 and Galaxy S23.
Android Hurts on Tablets
I want to be clear that OxygenOS 13.1 isn't terrible on the OnePlus Pad. There's nothing about the software that is fundamentally broken or truly buggy, though it does lack the same kind of responsiveness that OnePlus built its reputation on, no doubt because of the punier MediaTek chipset.
For the most part, the software on the OnePlus Pad is merely a blown-up version of what you get on OnePlus phones. For better or worse, that means a home screen of icons and a dock that shares an uncanny resemblance to iPadOS. All of the usual Android features and most of the OnePlus extras are present.
As just a bigger phone, the OnePlus Pad is serviceable. But you might be disappointed if you expect more, like using it as a laptop replacement. There are a bunch of little things that annoyed me over a few weeks of testing and had me ready to return to my iPad. The dock, for example, can only have six pinned apps (plus three recently opened ones). In comparison, the iPad's dock can have 14 pinned apps plus three recent apps and a shortcut to the App Library.
Some apps like Instagram and Bluesky (the hottest refuge for Twitter users sick of Elon's shenanigans) do not open up in landscape even when the OnePlus Pad is in landscape orientation. Instead, they open up in fullscreen portrait mode like they used to on iPads years ago. Other apps such as Signal, an essential messaging app that I use on all my devices, do not install. "This app won't work for your device" is the return message I get in the Play Store.
There is a workaround for apps that open in portrait orientation and that is launching them in a resizable floating window. That's done by swiping open the "smart sidebar" which essentially opens the app as if it were viewed on a phone.
Opening two apps in split screen is clunky. You have to launch one app from the home screen or dock and then another from the smart sidebar. There's a much easier two-finger slide-down gesture, but I didn't realize that until that during my first few weeks with the OnePlus Pad. There's also no way to pull up the dock in split screen. You can have a third app in a floating window, similar to Slide Over on iPadOS, but it can only display one app at a time, unlike iPadOS's multiple apps.
And the variety of widgets available for the home screen is even more lacking than on iPad.
Dig deep enough into the system settings and you can tweak OxygenOS to look and operate better. I dig the many home screen animations (like a 3D flip or carousel) that throw it back to Android skins of the past. However, coming from an iPad and having tried Samsung Galaxy Tabs over the years, I now appreciate the more polished software on those devices.
Should You Buy It?
As a first stab, the OnePlus Pad gets the hardware part mostly right. The software, however, needs more time in the oven. To be fair, Android has never been optimized well for Android tablets. For a time in the mid-2010s, when Android tablets were abundant, Android on tablets could have really evolved into something great, but those days are long gone.
Fortunately, OnePlus is committing to three years of Android updates and four years of security updates, which means the company could add new features to address the shortcomings. The company has listened to feedback before.
Whether or not the OnePlus Pad is a good value to you depends on what you're looking to use a tablet for. If it's to watch Netflix, or keep the kid busy, or if you own a OnePlus phone and want to be able to connect them together, it's a good match. But iPads, even the $449 10th-gen iPad, are so damn good it's hard to recommend dealing with the quirks of an Android tablet when Apple's tablet experience is so much more refined. Samsung sells a family of Android tablets, but good luck deciding between a model when its lineup and website looks like this.
Photographs by Raymond Wong