Sony and Honda's upcoming EV is called "Afeela" and could arrive in 2026
Sony is continuing its trend of EV hype at CES 2023 by announcing the name of its upcoming auto brand with Sony Honda Mobility.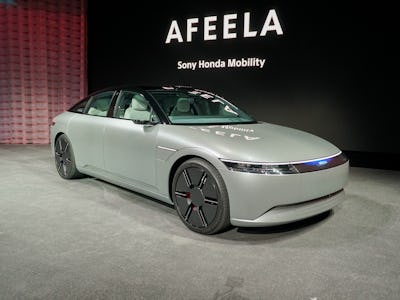 Ray Wong / Inverse
Sony might be known for its consumer electronics, but that doesn't mean it doesn't have more to offer the ever-changing world of technology.
We've known since it first unveiled its Vision-S car concept and its decision to partner with Honda that the "future" in Sony's case means cars, but at CES 2023 we got a bigger hint at what exactly that car-encompassing future might entail.
Enter: Afeela, Sony Honda Mobility's new EV-centric brand. Sony says Afeela will bring a few interesting ideas to the burgeoning EV table — aside from a questionable name — and come to market in North America by Spring 2026 (pre-orders will start in 2025).
Do you Afeela me? — For one, Afeela wants to put displays in its EVs front grille. That display will, according to a presentation during Sony's announcement at CES, show pertinent information like charging status and allow people outside the vehicle to interface with the car. Think of it as a widget for the body of your car (or Knight Rider's talking KITT come to life).
Keeping in line with most EVs nowadays, Afeela's cars will also be loaded to the gills with autonomous tech. A grand total of 45 cameras and sensors will imbue Afeela's EVs with automated driving capabilities and driver assistance. Just how sophisticated those capabilities will be is obviously an open question. If it goes anything like Tesla's campaign, my guess is it will be an uphill battle.
As Sony has alluded to in the past, Afeela's EVs will also offer "best-in-class entertainment." A PlayStation tie-in is the obvious choice here, but Sony says movies and TV shows are also on the table.
Needless to say, the ability to play games pairs best with fully autonomous driving (which is currently fairly out of reach), but it could also be a great way to appease kids riding in the back seat.
Powering all of this demanding technology will be another partnership — one between Sony Honda Mobility and Qualcomm. Sony says it will be the duty of Qualcomm's Snapdragon digital chassis platform to power everything in an Afeela EV.
The big picture — Sony obviously sees the electric mobility future and wants a slice. It sounded outlandish at first when Sony first rolled out a prototype of its first-ever EV at CES 2020, but every step of the way it's proved that the pivot is real.
There's obviously still plenty of room for things to go south between now and when Afeela plans to bring an actual, driveable, EV to market in 2026 — not to mention increasingly stark competition from legacy automakers and auto upstarts — but at CES 2023, at Sony's stage, Afeela felt real.
INVERSE brings you everything from the fun and futuristic world of consumer technology at CES 2023. For all the latest technology coverage from the show, go to the INVERSE CES 2023 hub.