Every Single Marvel Movie, Ranked
There are 32 movies in the Marvel Cinematic Universe so far. Here's where they fall.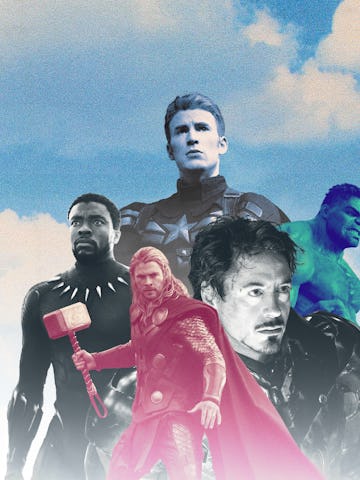 Dewey Saunders/Inverse; Marvel Studios, Getty Images
When Iron Man first hit theaters in 2008, few people expected that scrappy charmer of a superhero movie to launch a cinematic universe that would still be going strong 15 years later. After 32 movies and countless TV, comic book, and multimedia tie-ins, the Marvel Cinematic Universe dominates our pop culture landscape.
Now, however, Marvel fatigue threatens to set in. So what better time to look back at the greatest heights of the MCU, and the lowest lows? The Inverse staff put their heads together to give you the definitive ranking of all 32 MCU movies released so far — including the very latest.
32. Thor: The Dark World
Thor's second outing is a grim attempt at a self-serious superhero movie, and possibly Marvel's one undeniably boring installment. That's its greatest sin: Thor: The Dark World is dull as bricks. Game of Thrones director Alan Taylor was brought on to give the God of Thunder some medieval grit and instead churned out a hopelessly generic comic book flick full of convoluted plots about Dark Elves and magical MacGuffins. While there are some bright spots provided by the always-charismatic Tom Hiddleston, Thor: The Dark World buckled under its own somber weight. Marvel may have pivoted too far in the glib, lightweight direction after this, but Thor: The Dark World shows that sometimes even gods need to lighten up a little. – Hoai-Tran Bui
31. Ant-Man and the Wasp: Quantumania
Maybe one day we'll come around to Ant-Man and the Wasp: Quantumania, or at least feel better than we initially felt about it. But after an overstuffed Phase 4, this start of Phase 5 feels so overburdened by both the MCU's past and its future that it altogether forgets how critical it is to exist in the present. Ironically, that's a story Quantumania tries to tell with an ostensibly serious movie about Scott Lang (Paul Rudd) trying to regain his lost years with his daughter Cassie (a recast Kathryn Newton). But the MCU's inability to commit and not have a laugh leaves this installment a mixed bag that flip-flops between goofy pulp sci-fi and Jonathan Majors trying to do Othello in greenscreen. Who knows what will become of Kang, but Quantumania reveals the pitfalls of being married to the plan. – Eric Francisco
30. Thor: Love and Thunder
Has there ever been a greater fall from grace in the Marvel fandom than Taika Waititi? The Kiwi director, who made a name for himself with beloved budget comedies like Hunt for the Wilderpeople and What We Do In the Shadows (the brilliant movie, not the somehow even more brilliant show he executive produces), entered the MCU like a blast of technicolor candy. Thor: Ragnarok was a visual and tonal high for Marvel Studios, setting a benchmark no movie since has come close to hitting. Unfortunately, that includes Waititi's follow-up Thor movie, Love and Thunder.
From its awkwardly dull humor to its eye-watering CGI, Thor: Love and Thunder is a low point for all of Marvel. The movie ends with the promise that Thor will return once again, but maybe it's for the best if everyone involved just moves on to something new. – Jake Kleinman
29. The Incredible Hulk
Ah, the redheaded stepchild of the MCU. Edward Norton may not be the Bruce Banner we know and love, but this film is actually a glimpse into what the MCU could have been. It's not the first MCU film, but it is the first attempt to make a franchise. It's rough around the edges, it has a sex scene (scandalous!) and it's lacking the MCU je ne sais quoi — but it's also the birth of what would come to be the MCU, and birth isn't always pretty. Even the most off-brand movies make the MCU more charming, as it shows an earnest desire to experiment and make mistakes to find what worked (and what worked wasn't this — it was Iron Man). – Dais Johnston
28. Eternals
Eternals is Marvel's most fascinating failed experiment. Tapping Nomadland director Chloé Zhao immediately after her Oscar win seemed to signal a bold new era for Marvel Studios, one where the superhero machine gave way to arthouse directors and weird, wild swings. Instead, Eternals was an oddly muted, tonally off-kilter ensemble piece that couldn't land its admirable big ideas. Its star-studded cast (including a genuinely fantastic Angelina Jolie!) seemed lost, and Zhao's dreamy, naturalistic directorial vision seemed ill-suited to Jack Kirby's psychedelic cosmic creation. For a movie that revolved around the question of "Is humanity worth saving?" there was precious little humanity to it. – Hoai-Tran Bui
27. Iron Man 2
Iron Man 2 is not a Marvel flick one can easily defend. Its central premise was, at best, forgettable; its Stark-obsessed, bird-loving villain was… weird, to say the least. But there are still merits to Tony Stark's second solo outing. It's the film that first gave us Scarlett Johannson's Black Widow (a triumph, despite director Jon Favreau's creepy voyeurism). It's also the film that gave us Don Cheadle as James Rhodes, a controversial recasting that eventually became the MCU's secret weapon. Perhaps most importantly, Iron Man 2 is the film that actually got to who Tony Stark was beneath the trademarked armor. For all the life-saving advantages of the reactor that powers his heart, Stark is not invincible. Iron Man 2 was smart to point that out, and the film is at its best when it leans into the inherent irony of that. – Lyvie Scott
26. Doctor Strange in the Multiverse of Madness
Doctor Strange in the Multiverse of Madness is a messy, light-on-its-feet, occasionally disgusting superhero film. In other words, it's a Sam Raimi movie. The legendary Spider-Man director made his return to the superhero genre with this 2022 Marvel outing, and even if the film's overstuffed plot kept him from having as much fun as he might have otherwise, Raimi still managed to bring plenty of his anarchic spirit to Multiverse of Madness. There are moments of dark comedy, cheesy heart, and pure horror camp scattered all throughout the film, especially in Elizabeth Olsen's deliciously evil performance as Wanda Maximoff.
Behind the camera, Raimi also brings a visual playfulness to Multiverse of Madness that has long been absent from the MCU. The result is a movie that is undoubtedly flawed, but also among the most visually invigorating additions to the superhero genre that has come along in quite some time. – Alex Welch
25. Avengers: Age of Ultron
There are worse things to be than the worst Avengers movie. For all its flaws (and there are plenty), Age of Ultron is still a fun crossover epic, pitting the world's mightiest heroes against an evil AI and his army of robots. The action is fun, while the addition of new characters like Wanda Maximoff and Vision makes this a significant chapter in MCU history. Plus, the scene where all the Avengers try to lift Thor's hammer is an all-time classic Marvel moment.
As for the flaws, perhaps Avengers: Age of Ultron's biggest sin is shoehorning in a Black Widow-Hulk romance that goes nowhere. You can blame writer-director Joss Whedon for that one, along with the many attempts to wring yet another story out of awkward quips that have gone on to define an entire era of lazy movie and TV writing. – Jake Kleinman
24. Black Widow
Despite a fraught pandemic release, Black Widow is one of those MCU films you'll never forget. The opening credits alone are worthy of an award, and the montages are riveting. It's divorced almost completely from the outside MCU, but that doesn't make it any less effective. Natasha and her family balance The Americans-esque Cold War action with the rag-tag group elements (and key cast member, in David Harbour's scene-stealing Red Guardian) of Stranger Things. It's the movie that finally conquered the "villain with the heroes' powers" trope. It had all the separate elements that would've made for a great spy thriller, but ultimately, it failed to come together — the muddy CGI bonanza of its final battle didn't help, either. At least it was the movie that gave us Florence Pugh's delightfully blunt Yelena Belova. – Dais Johnston
23. Thor
The first Thor, is, in many ways, the movie that proved the Marvel Cinematic Universe was actually going to work. Prior to 2011, casual fans of Marvel comics would almost never cite Thor as their favorite character. But, for his debut, Marvel did not mess around. Expertly directed by Kenneth Branagh, the strength of the first film is that it's not kidding. Yes, we all love the slightly more self-aware Thor from Endgame or Ragnarok. But here, Hemsworth isn't subverting anything about this character, he's just playing it correctly — like a Shakespearian play about Nordic gods. The cast, from Natalie Portman to Tom Hiddleston and Anthony Hopkins and Kat Dennings, is perfect. The first Thor may not be the artistically best Marvel movie, but it is one of the bravest. – Ryan Britt
22. Ant-Man and the Wasp
Ant-Man and the Wasp had a huge job at hand: provide a palate cleanser after the traumatic cliffhanger that was Avengers: Infinity War. It was a welcome break from the tragedy of the Snap, but it also laid the groundwork for one of the greatest MCU moments of all time: the Time Heist. Sure, it suffers from the Marvel Sophomore Slump (see also: Iron Man 2, Thor: The Dark World) but it's an essential building block of where we are now in the Marvel Universe. Of all the sequels, it's definitely one of the best. – Dais Johnston
21. Black Panther: Wakanda Forever
In another reality, Black Panther: Wakanda Forever might have been one of the MCU's greatest entries. But the tragic death of its star, Chadwick Boseman, forced a surefire success into grief-stricken limbo. Director Ryan Coogler, his cast, and his crew do brilliant work in metabolizing that grief: Wakanda Forever is a stunning tribute to Boseman, and to the character that revolutionized the MCU. It also takes its time to set Wakanda up for the future, and while the introduction of new players like Riri Williams (Dominique Thorne) and Namor (Tenoch Huerta Mejia) both elevate the film in their own way, Wakanda Forever struggles beneath the weight of obvious setups for future MCU entries.
In spite of its narrative and aesthetic weaknesses, this sequel still achieves its goal. Saying goodbye is never easy, but life still goes on. Boseman is no longer with us, but his legacy is in capable hands. – Lyvie Scott
20. Captain Marvel
If you could pick the turning point from "Marvel movies are consistently great, must-see events!" to our current state of Marvel fatigue, it would probably be Captain Marvel. A movie that works on paper, and certainly worked in the theater when it was released in 2019 to rave reviews, Captain Marvel has effectively been memory-holed in the years since. Was it Brie Larson's stony-faced lead, whose status as Marvel's first female superhero with a solo movie overshadowed Carol Danvers' personality? Was it the forgettable villains, the oddly misapplied needle drops, the formulaic origin story? Perhaps it was a combination of them all, but what stands out most about Captain Marvel today is how much it feels like a Disney+ show — agreeable, mildly entertaining, full of beloved supporting characters (Ben Mendelsohn's Skrull Talos remains the best), and a low-stakes plot. The good thing is that Captain Marvel sequels can only get further, faster, and stronger from here. – Hoai-Tran Bui
19. Guardians of the Galaxy Vol. 2
"He might have been your father, but he wasn't your daddy." Leave it to James Gunn to find a heart of gold in the rugged exterior of Yondu. While the 2017 sequel to Guardians of the Galaxy received a more divisive reaction than its predecessor, its brutal interrogation of father figures — the stories we tell ourselves about them versus the reality of who they are — is some of the most emotionally raw storytelling the MCU has ever done. A more lively and diverse soundtrack that trades the original's curation of supermarket pop for the multi-dimensional songwriting of Fleetwood Mac, George Harrison, and Looking Glass adds to the sequel's more complex themes that feel a touch brave for the MCU. Its closing shot of a tearful Rocket is all we need to know about what's in store for Vol. 3. – Eric Francisco
18. Doctor Strange
Doctor Strange might just be the most underrated movie in the entire Marvel Cinematic Universe. This is a film starring Benedict Cumberbatch, Tilda Swinton, and Mads Mikkelsen, all of them giving the script everything they've got. It's also a visually stunning psychedelic trip thanks to the vision of Scott Derrickson, a horror auteur who attempted to reshape the flat, gray MCU into something more interesting (and mostly succeeded).
The plot may be forgettable — and the unresolved post-credits scene no longer matters — but Doctor Strange still holds up for one undeniable reason: it gave us the eternal gift that is Wong. – Jake Kleinman
17. Shang-Chi and the Legend of the Ten Rings
While the pandemic box office doomed Shang-Chi and the Legend of the Ten Rings to be one of the lowest-grossing Marvel movies, the importance of an Asian superhero on the big screen amid anti-Asian prejudice cannot be understated. With Short Term 12 director Destin Daniel Cretton, ex-sitcom star Simu Liu as the lead, and charismatic Hong Kong icon Tony Leung playing his father, the Master of Kung Fu trades in his outdated chop-socky aesthetics for a more relatable journey about what it means to be your own man. While the film fell victim to formulaic storytelling and third-act CGI sludge, Shang-Chi managed to elevate a once-obscure comic book character to a place with the Avengers. – Eric Francisco
16. Iron Man 3
Iron Man 3 is one of the last Marvel movies to, in the wise words of Harry Styles, feel like a movie. That might be why it gets such a bad rap among the Marvel fandom, because Shane Black's prickly, whip-smart writing and sharp direction took precedence over any badass villain reveals or lore-building. Iron Man 3 earnestly grapples with Tony Stark's PTSD, while delivering a delightful buddy comedy that subverted expectations for where a Marvel movie could go. While Rebecca Hall's villain was sadly wasted, and the Extremis plot amounted to a shrug, the film's choice to constantly zag when you expected to zig kept you on your toes in a way Marvel hasn't been able to replicate since. – Hoai-Tran Bui
15. Spider-Man: Far From Home
Avengers: Endgame brought a major reckoning to the MCU. Moving on from the loss of Tony Stark felt like an impossible task, especially for Stark's quasi-protege, Spider-Man. In a way, that's exactly what made Spider-Man: Far From Home such a breath of fresh air. With the Avengers licking their wounds and the world beginning to reset, Peter Parker is free to do the same. Far From Home takes our friendly neighborhood Spider-Man on a grand tour of Europe, doubling down on Homecoming's kitschy humor and introducing a memorable villain in Jake Gyllenhaal's Mysterio.
Tom Holland's web-slinger had to work hard to find his place in a world already teeming with omnipotent, globetrotting heroes. While he's still got some identity issues in his second solo adventure, Far From Home was definitely a step towards surefire independence. – Lyvie Scott
14. Spider-Man: No Way Home
Spider-Man: No Way Home is a lot of things. It's the third installment in Sony and Marvel's Tom Holland-led Spider-Man trilogy, a multiversal epic, a franchise-hopping crossover event, and a tragic love story. With all that saddled on its back, it'd be impressive if No Way Home was merely "OK," but it's better than that. It's an endearing, web-slinging action film that not only gets right to the heart of Tom Holland's Spider-Man but also Andrew Garfield and Tobey Maguire's iterations.
More than either of Holland's previous solo Spider-Man efforts, No Way Home understands that it's his unwavering sense of responsibility that makes Peter Parker so enduringly lovable and tragic, and it weaponizes that understanding in a third act that is more narratively triumphant and emotionally affecting than it has any right to be. – Alex Welch
13. Ant-Man
Everyone knows MCU movies can be funny — the Tony Stark brand of wit became a trademark for the franchise — but Ant-Man proved the MCU could be goofy. Starring Paul Rudd, who was seemingly born to be an affable Marvel star, this movie captures the wackiness of Marvel Comics just as the MCU was pivoting to be more grimdark. It's a humble beginning for the hero who would later introduce Kang the Conqueror, but Scott Lang quickly became a fan favorite in our world and his. There's a reason he was retconned into the Battle of New York in Rogers: the Musical. – Dais Johnston
12. Captain America: Civil War
In what was a particularly tumultuous year in U.S. politics, superheroes seized on the theme of division. Shortly after Batman and Superman duked it out in another universe, Steve and Tony split the MCU in half over a conflict that was at all times physical, philosophical, political... and personal. Captain America: Civil War, the Russo Brothers' second directorial effort for Marvel, is still one for the ages, masterfully juggling the needs of its title lead and the demands of the cinematic franchise. It may be a bit overloaded with new characters — this one sets the table for Black Panther, Spider-Man: Homecoming, AND Avengers: Infinity War — but that it still tells a legible story about Steve and his struggle to grasp the modern world makes Civil War one of the most hard-hitting Marvel movies. – Eric Francisco
11. Avengers: Infinity War
Infinity War shouldn't work. Cramming all those plotlines and character arcs into a single movie where none of the heroes gets more than 20 minutes of screen time seems impossible, but this movie has a trick up its sleeve: Thanos. Avengers: Infinity War turns the supervillain into the protagonist to give the bloated film a clear throughline (though he still only gets 31 minutes on screen).
"Every villain is a hero in his own story and believes that what they're doing is right," co-director Joe Russo said of the decision. "We thought it was fascinating to tell a story from the point of view of a villain."
The result is a thoughtful character study disguised as a massive crossover event. Of course, Infinity War still has all the components of the latter, but it's the former that makes it worth rewatching even when you know the end. – Jake Kleinman
10. Guardians of the Galaxy Vol. 3
Guardians of the Galaxy Vol. 3 refreshingly stands apart from the hyper-kinetic, hyper-hilarious joyrides of Gunn's previous movies — and mercifully, the staid action-comic tones of the Marvel Cinematic Universe. Instead, Vol. 3 employs a darker mood profoundly colored by sadness over what's lost, anger over what can't be regained, and joy there is still tomorrow. Following up on years of earned emotional moments, Guardians of the Galaxy Vol. 3 ranks high as one of Marvel's finest and most moving movies ever. – Eric Francisco
9. Captain America: The First Avenger
You know you've got a good trilogy on your hands when Captain America: The First Avenger is its weakest installment. [Editors' note: We disagree, First Avenger is better than Civil War.]
Directed by Joe Johnston, The First Avenger is an old-fashioned blockbuster about an old-fashioned superhero. Occasionally cartoonish but always charming, it's the film that introduced audiences to Chris Evans' take on Captain America, who would go on to become the quiet, steady soul of the MCU. Even more importantly, it established a love story between Evans' Steve Rogers and Hayley Atwell's Peggy Carter that could believably span decades.
There is, perhaps, no moment in the MCU as bittersweet as Steve Rogers realizing he's been asleep for 70 years and disappointedly telling an oblivious Nick Fury, "I had a date." The fact that such a small, simple line can hit as hard as it does is a testament to just how much The First Avenger gets right. – Alex Welch
8. Spider-Man: Homecoming
Marvel and Sony did Tom Holland no favors by shoehorning his first appearance as Spider-Man into the already overstuffed crossover event, Captain America: Civil War. So when this new version of Spidey got his own standalone movie a year later, it was Holland's chance to firmly establish the way his Peter Parker saw the world. Although Homecoming is essentially a team-up movie between Spidey and Iron Man, its true power lies in the supporting cast: Zendaya as MJ and Jacob Batalon as Ned. Together, these two Spidey besties captured the realism of what life would be like for a teenage superhero. Considering it came out only three years after Amazing Spider-Man 2, the fact that Homecoming convinced the world this was the new Spidey was a minor miracle. – Ryan Britt
7. Avengers: Endgame
What is there to say about Avengers: Endgame that hasn't already been said? The film's narrative accomplishments have been lauded repeatedly over the years, but we'd argue the thing that makes it work as well as it does is its humanity. There's a living, beating heart at the center of Endgame, and it can be heard in all of the mundane scenes that so many other superhero movies don't make time for.
It's there in the moments when Steve Rogers and Natasha Romanoff commiserate about the weight of their responsibilities, when Tony Stark tucks his daughter into bed, and when Captain America finally gets to dance with the love of his life. If Avengers: Endgame's flaws seem more apparent now, so do its strengths. It's a messy epic, but it's made with sincerity, which is more than can be said about a lot of MCU movies. – Alex Welch
6. Guardians of the Galaxy
At the time of its release, Guardians of the Galaxy felt like the second coming of the blockbuster space opera. With its inspired art direction and unforgettable jukebox soundtrack, it seemingly ticked all the boxes. The movie also proved the Marvel Cinematic Universe was big enough to encompass a storyline that only had a tangential connection to whatever was going on with the Avengers. The self-contained nature of Guardians of the Galaxy, remains, almost a decade later, its greatest strength. Subsequent appearances of the Guardians, whether in their own films or in larger Marvel crossovers (like Infinity War or Thor Love and Thunder) have never reached the simplicity and fun of the first movie. It remains to be seen how Guardians of the Galaxy will be regarded in another 10 years or so. It was an instant classic upon release and remains solid today. Its legacy, however, is totally in flux. – Ryan Britt
5. The Avengers
If Iron Man was the first MCU movie, The Avengers was the first big MCU Moment. Marvel Studios' unique "phase" plan was put to the test with a massive team-up mission, and to secure the success a huge name was attached: Joss Whedon, fresh from The Cabin in the Woods. The Whedon touch, with the wit and one-liners that made Buffy the Vampire Slayer iconic, was already echoed throughout Phase 1, but The Avengers cemented it as a Marvel trademark. It's hard to make a chapter-ending movie that's both the end to a storyline and the beginning of something much bigger, but that's exactly what The Avengers was: the end of something great, but the beginning of something even greater. – Dais Johnston
4. Iron Man
Every franchise has to start somewhere. For the MCU, "somewhere" was Iron Man, a film directed by someone who had never made a superhero movie and starring an actor who hadn't yet reclaimed his place atop Hollywood. On top of all that, the film's script was reportedly so rough that Jon Favreau, Robert Downey Jr., Gwyneth Paltrow, and Jeff Bridges would meet on set every day and rewrite their scenes themselves.
All of which is to say that Iron Man should not have worked. It did work, though, and it's not hard to see why the film effectively launched a franchise as dominant as the MCU, either. It's just as well-constructed and fun now as it was in 2008, and the same goes for Downey Jr.'s charismatic lead performance. Much like its eponymous hero, Iron Man doesn't just get off the ground, it soars. – Alex Welch
3. Thor: Ragnarok
After the disaster of Thor: The Dark World, director Taika Waititi took a character who seemingly had no sense of humor and totally reinvented him without really explaining why. Charmingly, and somewhat shockingly, it worked. Thor: Ragnarok is not only the best Thor movie or Avengers movie, but it's also one of the most fun, heartfelt superhero movies of all time. This is because the movie has one thing some of the more forgettable MCU movies lack: style. From Mark Mothersbaugh's perfect score to Mark Ruffalo's best take on the Hulk to Tessa Thompson, the ever-reliable Tom Hiddleston, and Cate Blanchett's ultimate Marvel villain, this movie has it all. Finally, Chris Hemsworth was able to do something with Thor that didn't seem possible — make him the most likable, heroic, and funniest Avenger of them all. – Ryan Britt
2. Captain America: The Winter Soldier
Every Marvel film is, in a way, a form of military propaganda, but the Captain America trilogy is guiltier than most. Joe Johnston's The First Avenger had the sheen of World War II-era nostalgia to hide behind, but once Steve Rogers (Chris Evans) was pulled from his icy grave and dropped into a jaded modern world, his stars, stripes, and shield felt more like a farce than ever before. Directors Joe and Anthony Russo took this thorny concept in stride with Captain America: The Winter Soldier, and in the process created one of the most propulsive superhero films of all time. The Winter Soldier invokes the pulpy political thrillers of the '70s (and even borrows its biggest star in Robert Redford), but its ruthless, exacting action hauls its premise, and its hero, into the future. It set a standard that's been hard to top, for Marvel and its directors alike. – Lyvie Scott
1. Black Panther
There's no understating how monumental Black Panther was. Ryan Coogler's first outing with the Black superhero was a triumph in every way, from its Afrofuturistic vision of Wakanda's gleaming cities to Chadwick Boseman's nobly righteous crown prince to Michael B. Jordan's all-timer Marvel villain, Killmonger. But what's most remarkable is how Black Panther represents the perfect marriage between riveting pop culture entertainment and politically-charged storytelling, something that Coogler deftly navigates with intelligence and grace. It's embodied by Jordan's charmingly sinister performance as Killmonger, who seeks to tear down the institutions of imperialism with the very tools they used to oppress the world, in a plot that elegantly condenses Black history into a thrilling comic book movie. Black Panther is a movie with something to say, and it shouts it from the rooftops before it quietly, earnestly deals with the consequences. – Hoai-Tran Bui