Sony's 2023 4K TVs Want To Blow You Away With Their Out-of-the-Box Picture
Nobody wants to fiddle around with complicated calibration settings.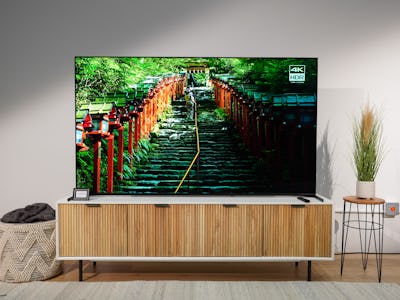 Photography by Raymond Wong
It's 2023 and most people are still watching TV incorrectly. Blame TV makers.
Even with all kinds of AI and content encoding, TVs often still get picture quality wrong. Shadows are too bright; contrast is too low or high; motion smoothing continues to ruin everything. The list goes on and on. That's why the picture on every TV looks different out of the box: each TV maker has its own interpretation of the "correct" way to calibrate a TV image.
Sony wants to fix all of this. At the very least, its new batch of 2023 Bravia XR smart 4K TVs comes with a slew of different hardware and software features that it claims will produce a better out-the-box picture than TVs from competitors like Samsung and LG.
The 2023 TV family
Sony's got seven new TVs from bottom to top; pricing to be announced in the spring. Starting at the base or what Sony calls its "foundation" is a new direct LED panel, the X77L. One step up is the "gold standard" which includes the X90L with full-array LED. Sony's "premium" bracket includes Mini LED with the X93L and X95L and OLED with the A75L and A80L. And then at the very top, in its "master series," is the new addition, the QD-OLED A95L.
Wikipedia is a search away if you need to learn the difference between LED, full array LED, Mini LEd, OLED, and QD-OLED. But TL;DR: OLED and QD-OLED push out the brightest pictures with the highest contrast and the deepest blacks. TV, movies, and games look spectacular on these panels, but they don't come cheap, especially at the large sizes Sony is selling them.
I'm also not gonna spend an unnecessary amount of time on aesthetics. Sony's TVs are still big giant black rectangles. The bezels are slim and some models (A90L) have an aluminum bezel instead of plastic. If you want a TV that's also an art piece, Samsung's got a Frame TV to sell you.
A Better Out-of-the-Box Picture
It all starts with the image processor, because of course it does. Every TV uses its own processor and different picture calibration. It's just like your phone; one phone display might be very saturated and another more "natural" or muted.
For the majority of Sony's new TVs (X90L, X95L, A75L, A80L, and A90L), there's a new XR Clear Image processor. This chip reads the data from a video source (Netflix, TV, cable, optical disc) and then converts that into an image with less noise at a high bitrate. That's then passed through whatever display hardware a specific Sony TV is capable of (full array, mini LED, OLED, etc.) and what you should (hopefully) see is a great picture.
Some TVs like the QD-OLED A95L can achieve up to 200 percent brightness with wider color gamut. The result is more vibrant colors and clarity than your eyeballs could ever appreciate. But objectively, there's more and better data, and better hardware, to help make everything on the screen pop.
Sony throws around a lot of jargon like a "Backlight Master Drive" in the X95L, but it ultimately means more local dimming zones (the LEDs behind the pixels that create really bright brights and dark darks) and less blooming (the glowing edges that result when a bright and dark area are contrasted).
Can't you just go into your TV picture settings and adjust the settings until it looks perfect for your room? Of course you can, but most people don't want to do that and never will dive into the menus to figure that stuff out. They plug their TV in and expect it to look great. The only problem is most out-the-box TV settings do not look great; some TVs like LG's have a "filmmaker mode" that adjusts the picture settings to that of the content so everything should display correctly, but most people either don't know it exists or forget to turn it on.
Creating a better out-the-box picture also means the screen needs to be calibrated for your room. Since everyone's room is different, a single factory picture setting that fits all doesn't work. That's why Sony's TVs have myriad ambient light sensors to detect the luminance your room and adapt the picture to it. How dark your room is and the color of your lights are all factors that affect a TV image.
Centered sound
Equally as important to reproducing a TV, movie, or game's original intent is sound. Now, I know what you're going to say: TV speakers suck. Yeah, they do. Get a soundbar; get a surround sound system; get anything external that's not your TV's tinny built-in speakers.
Should you want great sound to match a new Sony TV, Sony's got a cool feature called "Acoustic Center Sync" that connects to one of its soundbars to reposition audio at a raised level that feels like it's coming from the center of the TV as opposed to a bar (typically) positioned below it. I got a personal demo of this watching clips from A Star is Born and No Time to Die and it's really something to hear dialogue re-centered for clarity at eye level and bass get pushed lower to create more realistic separation. Acoustic Center Sync is available in the X90L, X93L, X95L, A75L, A80L, and A95L and works with Sony's HT-A9 speakers and HT-A3000, HT-A5000, and HT-A7000 soundbars. The X95L has "frame tweeters" built into the panel that can vibrate when synced via Acoustic Center Sync for added sound immersion.
Plug-and-play simplicity
That's the dream — to set down your big screen TV on your cabinet and turn it on and know that you're getting the best picture and sound possible. But what does that even mean? For Sony, it's the content creator's vision — be it a director, producer, or game developer. The content you experience at home should resemble what the creator wants. Whites should look like whites, not yellows; shadows should show or hide details; dialogue should sound like you're sitting right next to onscreen characters not directed at your legs.
I can't say with any certainty Sony's new Bravia XR TVs are the very best factory-calibrated TVs out there. But the company is at least trying really hard to make sure the image quality gets very close to that of a $40,000 reference monitor that filmmakers use to edit their masterpieces — a big step forward in my opinion.
While an out-the-box picture is the top priority on Sony's 2023 TV lineup, these TVs still have many bells and whistles. They all ship with Google TV. Gamers can access a "game menu" to toggle features like variable refresh rate (VRR), a black equalizer, or even display a crosshair in the center of the screen. I was impressed with the "screen size" feature that lets you shrink down the visible play area to a smaller section of the TV; it's like having a virtual gaming monitor with a clear view of all onscreen information, except you have to deal with the black bars on three sides. All of Sony's new TVs have "eco dashboards" with settings to conserve energy; select TVs also use partially sustainable plastics and packaging. Some of them have USB ports on the back to attach an external webcam — good for Google Duo or Zoom video calls.
It's not often I get very excited about TVs that it warrants 1,300 words, but I think Sony's got the right idea: focus on picture quality that's as pure to the creator's intent as possible. Everything else is a bonus. Because at the end of the day, TVs are just big windows for displaying content. So it might as well be incredible without any fiddling.