We Assembled the Teched-Out Playroom of Your Dreams
Welcome to a futuristic, insanely fun entertainment space full of shape-shifting TVs, VR treadmills, and beer-fetching robots.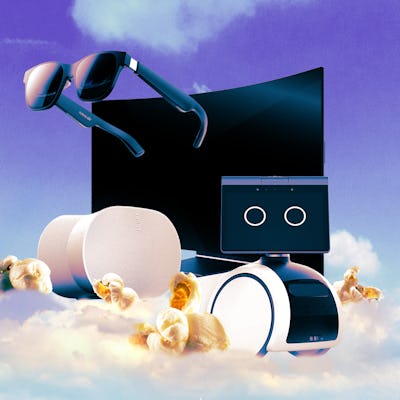 Lais Borges/Inverse; Getty Images
Phones and tablets and laptops have put an infinite stream of movies, TV, music, games, and crumb-sized videos into our pockets, purses, and tote bags. Wanna binge-watch The Mandalorian on the subway or in line at the supermarket? Go ahead. Even Mount Everest's base camp has cell service. But forgotten in our entertainment-everywhere lives is something our forebears understood, back when the world wasn't awash in wifi and Real Housewives reunions: there's no place like home — at least, when it comes to watching, gaming, and just plain playing.
Hear us out: Home is where you have the biggest screen. The coziest vibes. The most space. It's where you can build out the living room — or, if you're spatially blessed, a dedicated playroom — of your dreams. If you think your 4K TV is cutting edge, apologies, but technological advances in home entertainment have quietly crept into "wait, how does that work??" territory while you were fiddling with your Apple TV remote.
So we took it upon ourselves to stock up a teched-out entertainment room with the most unexpected, exciting gear for watching, gaming, listening, and more. We went big. We went practical. We went weird. Because if you're going to design a play room from scratch, it should put a smile on your face every time you walk through the door. Buckle up (literally, when it comes to the VR treadmill we're about to show you), because things are about to get fun.
Choose Your TV
You're probably looking at your 65-inch 4K HDR TV and thinking it can't get any better. It can. The future is even larger 8K HDR TVs, with four times the pixels compared to 4K and picture quality so clear that reality starts to look fuzzy.
The Top Dog: SONY Z9K 8K TV
Pick whatever brand you want for an 8K HDR TV — just make sure it's as huge as you can afford and has a panel technology like OLED or Mini LED for the deepest blacks and the brightest whites. Sony's 85-inch Z9K comes with all the bells and whistles, including (but not limited to) fantastic dynamic range, 8K upscaling, Google TV, and gaming features such as auto low-latency mode (ALLM) so you never miss a frame and variable refresh rate (VRR). HDR10 and Dolby Vision movies look phenomenal on the premium Mini LED panel and so do ray-traced console games like Cyberpunk 2077. Built-in "XR Surround" speakers create a virtual 3D audio experience to match the picture quality — though we can do better than integrated speakers, as you'll see in a moment.
Samsung's 85-inch QNC900C is in the same class — same size, resolution, and Mini-LED display technology — and is an equally excellent window for movies and games.
The Shape-Changer: SAMSUNG SERO ROTATING TV
There are a lot of TVs out there, but Samsung knows how to push the boundaries of what we expect. Where your more stylish friends might opt for the Frame, which can turn into a digital art canvas when it's off, the Sero is the wildest one in the Samsung family. It's a TV that rotates from landscape to vertical orientation with the push of a button.
Why would you want to do such a thing? You're probably looking at it right now: the smartphone. Samsung's deigned to ask: What if we took your favorite downtime time-filler, TikTok, and blew it up? Instead, you can flip your Sero vertically, cast your preferred social app to the TV, and enjoy your most smooth-brained impulses on the big screen.
The Cineaste's Choice: LG CINEBEAM PROJECTOR
Or maybe you're over TVs all together. Why lose living room real estate to a big black square? If you want to skip the vacuous screen completely, then an ultra-short throw projector should be on the menu. Better yet, make it a laser projector.
LG's Cinebeam HU715QW, for example, is a perfect mixture of performance, aesthetics, and convenience. This powerful little box can be situated as close as 7.1 inches from the wall (or projection screen) and can still deliver 4K at a film-like 24 frames per second, or a formidable 2160p at 60 fps. The combo of locational versatility and high-res output is proof that these devices aren't just for home theater nerds anymore.
Choose Your Audio
A massive screen steals the spotlight, but do not skimp on good sound. Both are essential to bringing entertainment to life. Getting great immersive sound — audio that's three-dimensional, as if it's coming from all around you, instead of just in front of you — used to require a trained A/V technician and cost a small fortune. These days, the speaker setups are more compact and easy to get up and running on your own.
The Flex: DEVIALET DIONE
There are soundbars and then there's the Devialet Black Dione. Equipped with 17 neodymium drivers, eight aluminum long-throw subwoofers, nine full-range aluminum drivers, and a signature rotating central channel orb, this Dolby Atmos 5.1.2 soundbar is an all-in-one spatial audio powerhouse capable of volumes that will shake your walls, floor, and ceiling. The Dione also has an upscaling technology that can convert mono or stereo audio into 5.1.2. And whatever input you need, the Dione has it.
That said, if going north of two grand isn't on the table, the Sonos Arc ($899) and its smaller sibling, the $499 Beam (Gen 2) are Dolby Atmos-ready soundbars that'll go gentler on your wallet. Whether it's a premium soundbar or a budget one, so long as it supports Atmos (a must-have for future-proofing any entertainment center), it'll blow any TV's built-in speakers out of the water.
The New Kid: SONOS ERA 300
Should you go the Sonos route, the new Era 300 spatial audio smart speaker is a terrific addition, especially in a pair configuration as rear channels. Sonos' newest speaker creates spatial audio that wraps around and above you, engulfing you in a bubble of three-dimensional sound like no other stereo speaker pairing.
A pair of second-generation Apple HomePods is a good alternative when hooked up to an Apple TV and Apple Music. On the opposite end, those with big budgets should consider the Syng Cell Alpha line-up of translucent UFO speakers. What they lack in digital processing (they support the older Dolby 5.1 standard, but not Dolby Atmos) they make up for with futuristic panache and exquisitely detailed 360-degree sound.
Get Your Game On
Once you've got a big TV and a kick-ass sound system, you need a way to enjoy next-gen content. Specifically, immersive gaming like VR, because you don't need us to tell you to buy an Apple TV 4K, Chromecast, or Roku to watch movies and TV shows.
The Console: STEAM DECK
We're not going to call game consoles passé; PlayStation, Xbox, and Nintendo have all managed to find a balance of hardware and software that make the current generation of gaming still feel vital. But if we're going to buy into hardware in 2023, it needs to do more than just take up space under the TV. Much as we're arguing for a return to building out a room, Valve's Steam Deck is the real game changer.
Valve's handheld game device is as powerful as it is versatile — a powerhouse device that runs Steam with relative ease, but functions as its own standalone computer with plenty of hackability to tap into its beefy processing power. And, of course, it can come and go with ease. For your play room's sake, make sure you grab a docking station that connects your Steam Deck to your TV, and you can live the best of both worlds.
The VR System: PLAYSTATION 5 + VR2
The idea of sitting in front of a screen, controller in hand, has endured for over 50 years as console boxes have gotten more powerful and games have become more detailed. But if we're being honest, virtual reality and its ability to make you feel like you're actually inside a game — that elusive thing the VR industry describes as presence — might be what carries us through the next 50 years.
Leading the VR pack is Sony's PlayStation VR2. While it requires a PlayStation 5 and cable, no other consumer VR headset offers the same display, haptics fidelity, or lightweight comfort. There are dozens of immersive games like Horizon Call of the Mountain and Tentacular to get lost in, and Sony says hundreds of games are in development.
A Meta Quest 2 or Quest Pro are more suitable if you prefer a standalone and wireless VR experience. Consider Valve's Index if you want more accurate hand and body tracking. Whichever VR headset you choose, one thing is for sure: Playing games in VR will engage you like no console can.
The Showoff: VIRTUIX OMNI ONE
If you're really chasing the R in VR, splash out on the Virtuix Omni One, a multi-directional "treadmill" that lets you walk and run in place, allowing your in-game movements to mirror your IRL steps. (Whether or not simulating legs in VR is necessary is a different discussion.) If the cost of admission seems hefty, know that the Virtuix comes bundled with a Pico VR headset — and that you can't put a price tag on making your friends question your sanity while also demanding their turn.
The PC Gamer: RAZER BLADE
Sure, you can build yourself a gaming PC for less or buy a pre-built small form factor PC that fits in your media center, but if you're going to splash out on something with an Nvidia 4090 GPU, why not make sure it can go wherever you go? The Razer Blade 16 is the powerhouse gaming laptop we'd get for home and away — not just for its sheer power, but also its wealth of ports and stealthy chassis.
The Cloud: NVIDIA GEFORCE NOW or XBOX GAME PASS
Gaming is still a hardware-dependent category, but cloud gaming and game subscriptions are looking more and more like the inevitable future. With the right connectivity and pricing, our consoles and PCs will fade into the background in place of a controller and some rock-solid internet. You can already get in on that future with a couple of major services; notably Xbox Game Pass and Nvidia's GeForce NOW.
Which one you choose will likely be a matter of taste. If you're into Microsoft exclusives and a formidable backlog of old and new Xbox titles, Game Pass is the pick for you. For $15 a month, you get to download any of the hundreds of games on the service, which includes major titles like Halo Infinite and most of EA's major sports launches, plus a trove of underrated games and some small DLC perks. Plus, you get access to Xbox's cloud gaming service, which allows you to play Game Pass games on the go (though fair warning: lag and framerate issues mean it isn't the place for twitchy Fortnite-style FPS games). There's also a PC Game Pass version as well.
If you're historically a PC gamer coming into the cloud gaming fold, and you care less about console-centric titles, GeForce Now is the way to go. It's worth noting that the sheer volume of games in Nvidia's catalog (1,500 titles to be exact) far outpaces Game Pass' 300-game breadth.
Set The Ambiance
Sure it's important to make sure your entertainment setup has the high-tech gadgets to stream, play, and display all your favorite content, but having a space with just the right vibes — not too flashy, not too dark — is what takes your room from good times to grown-up.
The Brains: PHILIPS SYNC BOX
Philips Sync Box, a small module with four HDMI inputs, does what the name says. By plugging devices into the Sync Box you're able to, well, sync your smart lights with a movie, show, game, or music so that your environment always matches the vibe of whatever's on.
To top off your smart lighting, consider adding smart lights from Nanoleaf, which come in several forms including hexagonal, light bars, and squares. If you're looking for function and form, a combination Sonos speaker and smart lamp from Ikea, the Symfonisk speaker lamp, should also find its way to your end table or TV console.
The Assistant: GOOGLE NEST AUDIO
At the crux of every smart home is a voice assistant, and while there are several to choose from, Google Assistant tends to get the job done better than the rest. That's why Google's Nest Audio — Google's most well-rounded smart speaker — is the first recommendation on our smart speaker list. This minimalist little smart chiclet delivers serviceable sound in a pinch (though we've got that more than covered), and, more importantly, lets you control all these smart devices with your voice.
If you're firmly not in the Google ecosystem, however, you can always spring for one of Amazon's many Echo smart speakers (maybe a 5th-gen Dot) or Apple's Siri-enabled HomePods — a fine option for anyone looking for a smart speaker with premium sound.
The Wild Cards
What, VR treadmills and TVs that turn to TikTok mode aren't intense enough for you? We like your style. And we've got some eye-popping tech that tosses subtlety to the wind in favor of grandiose, futuristic insanity — in the most fun way possible.
The Hot Seat: ACER PREDATOR THRONOS AIR
Most of us prefer a cozy loveseat or a roomy sectional to kick back and relax. More daring types might think that's unimaginative. So we present the Acer Predator Thronos Air, an alien cockpit for your gaming setup that's guaranteed to make you either the coolest person amongst your friends or the dorkiest. (Very probably both.) Do you have to BYO screens, gaming PC, and peripherals? Yes. Will the chair massage you? Also yes. Is it even still on sale, after having been shown by Acer back in 2020? Hard to say. But if you're desperate to be swallowed up in this absolutely extra "gaming pod" every time you fire up Apex Legends, and you can track one down, we're not here to judge.
The Butler: AMAZON ASTRO ROBOT
What would the future be without robots? You probably don't want Boston Dynamics' dog-like robo-narc, Spot, stamping all over the vibes at your next party, but something like Amazon's Astro could be just what you need to hammer home the future of it all.
Astro, in case you forgot (and we can't blame you if you did), is a wheeled robot with a tablet face that is both literally and figuratively a vehicle for Alexa-enabled chores like video calling, surveillance (if you own smart cameras) and, if you're feeling extra lazy, delivering someone a beer.
Yes, Astro is still somehow invite-only for buyers, but with enough faith and expendable income, you can probably find something on eBay.
The Party for One: NREAL AIR
While we strongly believe that buying a massive TV or a great projector to create an even more massive screen is the best way to enjoy movies, TV, and console games, it's entirely possible that the future of watching things gets much smaller. The Nreal Air glasses give you a personal virtual display up to 201 inches. That "screen" won't look as crisp as a proper TV, nor will the audio match even the most basic setup. But if your partner's bogarting the 8K Sony, or you're tired of your roomies hijacking the common room TV, Nreal's video glasses are an easy way to get your own giant-screen experience — and a glimpse at a more personalized, augmented-reality entertainment future.
The Transformer: LG OLED FLEX BENDABLE GAMING TV
Want to really impress your friends when they come to your high-tech cave? How about this LG gaming monitor that goes from flat to curved with a press of a button? The LG OLED Flex, um, flexes its 42-inch panel in order to squeeze more pixels into your peripheral vision when you're fragging and slashing. It's a genuinely non-gimmicky gimmick — particularly because the Flex's 120Hz refresh rate means the panel is fast enough to play modern games without frame drops.