How Netflix Could Make a Cloud Gaming Service Worth Playing
The qualities that made the company successful at streaming films and TV shows might translate quite neatly to games.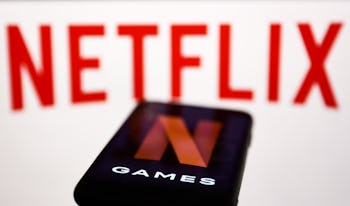 NurPhoto/NurPhoto/Getty Images
Netflix games could soon be coming to a TV near you. References to playing games on TVs were discovered in the Netflix app, Bloomberg reports, and they include mentions of using your phone as a controller.
Until this point, Netflix's burgeoning library of games has focused on original, ported, and presumably licensed mobile titles for Android and iOS. Some are based on the streaming service's own popular shows and movies, and most are from seasoned independent developers. A jump to TVs could signal an Apple Arcade-esque distribution of mobile games everywhere, but given Netflix's background, it seems like a sign the company is getting ready for something bigger.
Namely, cloud gaming. Netflix's approach and experience actually make it a compelling candidate for offering a full-blown game streaming service, which could create real competition in an arena dominated by Microsoft and Nvidia at this point.
Platform-agnostic
The roll-out of Netflix Games hasn't played out exactly as analysts predicted, but it has reaffirmed one thing: Netflix wants to be everywhere. The company even said as much in a press event earlier this month.
Netflix's platform-agnostic approach has brought its app to every platform under the sun — minus the Nintendo Switch — letting you watch original shows and movies on a variety of screen sizes. Applying the same logic to cloud gaming, maybe even offering it in the same app already living on Samsung and LG TVs, would be an immediate advantage over competing services.
Turning on the cloud gaming switch is bound to face pushback on some platforms. Apple, for example, has made its stance on cloud gaming services clear — it's for them, as long as they submit and list every streaming game separately on the App Store. Scrutiny from regulators could ultimately undo those kinds of restrictions, but being everywhere already doesn't mean immediate success for Netflix.
An Original for Everyone
The real boon for the company might be its willingness to try things. The sense from Netflix, at least in the earliest days of its push into original programming, was that it was trying to have a little bit of something for everyone, be it niche, scripted television, reality TV, or a trough of movies in a variety of genres. The same strategy could be the same kind of breath of fresh air for games.
Game Pass and Xbox Cloud Streaming are home to plenty of unique indie games, but Microsoft anchors its services around its big AAA acquisitions, like titles from Bethesda and, maybe someday, Activision. To date, Netflix Games has been centered on new exciting indie titles, games like Immortality and Before Your Eyes, and one would hope that could extend to a more fully featured cloud streaming service. I'd love to see House of Cards money spent on an oddball new game.
Current word is that Netflix's big spending habits have changed — the company that greenlit two seasons of The OA is gone — especially since Netflix lost subscribers for the first time last year. The Wall Street Journal reported in April 2022 that the company was "looking to add fewer new titles, with a greater emphasis on quality." The notion of Netflix's "gourmet cheeseburger" theory of television programming might also give a discerning gamer pause, but the companies Netflix has actually acquired to make games, and those it's licensing popular properties like Stranger Things out to are not "cheeseburger-producers" in the least.
Streaming Expertise
The simplest answer for why Netflix makes sense in cloud streaming is the company has already done the work to get a video to people's devices efficiently. Netflix as a tech-first company might not be as true as it once was, but the streamer's ability to create custom solutions for not just distributing but creating high-quality content shouldn't be discounted.
Getting a game to a living room TV is more complicated than just a video, and Netflix won't be the last company to try and make game streaming work. Still, with Stadia out of the picture and Amazon Luna not inspiring confidence, someone has to take the challenge to Microsoft. Why not the company that changed how we watched TV?