Samsung's SmartThings Station Is a Damn Clever Smart Home Hub
Combining a wireless charger and a Matter-ready smart home hub into one is a no-brainer.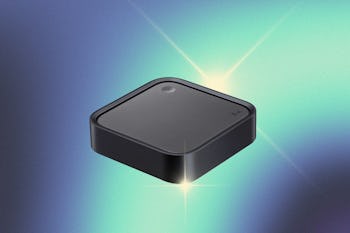 Lais Borges/Inverse; Samsung
We may receive a portion of sales if you purchase a product through a link in this article.
I have what any normal person would consider an unhealthy obsession with wireless chargers. I can't get enough of them and I refuse to stop testing new ones until the dream of Apple's canceled AirPower becomes reality or true over-the-air wireless charging replaces our tangly wires once and for all.
Tesla's Wireless Charging Platform is a step in AirPower's direction. But the $300 price makes it a luxury convenience most people can live without. Samsung's SmartThings Station is a different take on a wireless charger: it doubles as a smart home hub.
When the SmartThings Station debuted at CES 2023, I thought the idea made perfect sense. Why not have your wireless charger, which sits at home, unused after it's plugged in, also doing something else? Who doesn't love a good multipurpose gadget?
After using it for the past few weeks — and experiencing a few bumps along the way — I still think the SmartThings Station is a clever 2-in-1 product that's a no-brainer combo. I see the appeal of a single-function wireless charger that just charges your phone or smartwatch or wireless earbuds, but replacing two devices with one is a solid proposition, too.
Wireless Charging Your Devices
Wireless charging is the most basic function of the SmartThings Station — and it works for the most part. The 3.5 x 3.5 x 0.9-inch wireless charger has a slightly recessed top with a Qi wireless charging coil underneath it. This is where you plop down a Qi-compatible phone, smartwatch, or wireless earbuds. There are two models: a $59.99 SmartThings Station that doesn't come with a charger and a $79.99 version that includes a 25W "Super Fast" charger ideal for fast-charging Samsung Galaxy phones (this is the one I've been testing).
Qi is pretty ubiquitous on phones at this point, but the speeds vary. With a 25W or higher wattage charger, Galaxy phones can fast wireless charge at 15W. iPhones are capped at 7.5W. Other Android phones and Qi accessories wireless charge at around 5W. Naturally, as a Samsung device, the SmartThings Station is better suited for Galaxy phones. But also remember, this is a wireless charger so slower charging speeds are to be expected compared to fast wired charging.
Almost all devices I placed on the SmartThings Station worked, but you will need to fiddle with finding the appropriate sweet spot. It's not always as obvious as placing your device dead center on the SmartThings Station. For example, my iPhone 14 Pro needed to be placed at an angle; I had to position the camera bump on the edge of the charger, which made the iPhone 14 Pro angled, for the Qi charging to kick in. This struck me as weird because my iPhone 14 Pro would sometimes slide off if a bunch of notifications buzzed it enough. And because of this awkward angling, I worried that my case-free iPhone would scratch; a softer surface material could have fixed this concern. Positioning will vary from device to device, but still, it kind of annoyed me; a larger surface area would have solved the problem.
Samsung sent me the black model; there's also a white version. It's as basic as a wireless charger gets. Other than a smart home button (I'll get to that in a second) and LED lights to indicate the status of the charge, nobody would suspect the SmartThings Station being a smart home hub.
Connecting Your Smart Home
I still believe the modern smart home started off with good intentions to actually automate homes and let us all live out our sci-fi fantasies. Amazon propelled the smart home forward with Alexa. Then everyone piled on. Google made a mad dash with the Assistant and Nest, somewhat fumbling the unification of the two platforms in the process — an issue that still persists today among customers. Samsung pushed SmartThings. Apple trudged along sloppily with Siri and HomeKit.
What sane person wants to spend time decoding different smart home protocols? Thread, Matter, Zigbee, Z-Wave — this stuff is offputting enough to the layman but necessary to understand when it comes to piecing together a smart home that not only works but will be future-proof.
Unfortunately, the state of the smart home is no less complicated today than it was nearly a decade ago when it arrived. While Matter is easing the process of connecting devices from various device makers and platforms together — without each device needing to connect to the Internet on its own, no less — the interim transition is still a little bumpy.
Setting up the SmartThings Station with the SmartThings app is simple on iOS or Android. The app walks you through connecting compatible devices and looks like every other smart home app, which is to say it's got a lot going on. I connected four existing smart plugs (an Eve Energy, Kasa, and two Samsung ones), which now connect to the SmartThings Station for Wi-Fi instead of directly or to my SmartThings Hub v2, and two Nest cameras, and could control them all from within the app. No issues there.
Things get interesting when you create scenes and routines. Do you want certain devices to activate in the morning and at night? Perhaps, smart lights turn on, off, or dim; smart blinds roll up or down; music plays; something happens when a sensor reaches a certain temperature. There's so much you can do with a smart home that I can't possibly cover here. And sometimes you don't want to shout at a voice assistant to activate a scene or automation, which is where the SmartThings Station's "smart button" comes in; it can be programmed to do various things. Three functions — single tap, double tap, and long press — can be customized to activate a scene/automation. By default, a double tap rings Galaxy phones (another perk for being a Samsung user). The SmartThings Station can also detect nearby Galaxy SmartTags or Galaxy Buds — useful if you've misplaced them.
How much mileage you will get from the SmartThings Station will depend on what devices you own and how many of them are compatible with SmartThings/Samsung. The SmartThings app has a list of recommended scenes and automation that you can do if you've got the right devices. I've got some basic smart plugs and cameras, but not a smart fridge or locks. That makes the SmartThings Station less versatile for someone like me, but I still liked not needing my SmartThings Hub v2 just to connect older plugs, and reducing the number of devices that connect directly to my Wi-Fi is a privacy and security win in my book.
Should You Buy It?
As a self-proclaimed wireless charger expert, I wouldn't buy the SmartThings Station just for its Qi wireless charging. There are myriad better (read: larger) and sleeker wireless chargers to choose from, many of which are more affordable or similarly priced. Native Unions Drop XL and Nomad's Base Station Mini are two of my favorites.
The only reason to pony up for the SmartThings Station is for its smart home hub functionality. If you're just getting started with building a smart home (hopefully with Matter-ready devices), I recommend considering the SmartThings Station, especially if you're a Samsung user entrenched in its ecosystem of Galaxy products. If you have a smart home built around SmartThings devices, the SmartThings Station is a good way to add Matter support, which you'll want if you plan to keep adding to it. For Alexa, Apple HomeKit, and Google Assistant/Nest smart homes, the 2-in-1 wireless charger/hub works so long as your smart home devices support Matter or SmartThings, but you might not love controlling it all from within the SmartThings app.
Overall, I think Samsung's got the right idea with the SmartThings Station. I, for one, hope it's a trend that other companies copy and maybe even expand on.