BMW's i5 EV Lets You Switch Lanes By Eyeing Your Side Mirrors
You can even play games in the car while you're stationary and charging.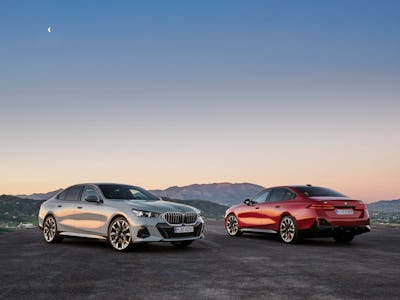 BMW
BMW introduced the i5, its latest all-electric sedan which brings back the iconic kidney grille design to its EVs and adds some novel driver assist features.
LONGER RANGE OR MORE POWER?
BMW is planning two variants for its latest electric sedan, the more-powerful i5 M60 xDrive and the longer-range i5 eDrive40. The performance-oriented i5 M60 xDrive will have a max output of 442 kW or 601 horsepower and generate 605 lb-ft of torque when the M Sport Boost of the M Launch Control function is turned on. The i5 M60 xDrive will go from 0 to 62 mph in 3.8 seconds and has a top speed of 143 mph. Depending on how you drive, the i5 M60 xDrive will get anywhere between 282 to 320 miles.
If you're more concerned with getting better range, the i5 eDrive 40 gets between 309 and 361 miles. The focus on range comes at the cost of better performance since it has a max output of 250 kW or 340 horsepower, max torque of 317 lb-ft with the Sport Boost or Launch Control functions, and goes from 0 to 62mph in six seconds. The i5 eDrive 40 tops out at 120 mph.
Both models are powered by an 81.2 kWh battery, but BMW has a Max Range mode that limits you to 56 mph and turns off certain functions so you can get a range increase of up to 25 percent. Once the battery is dead, you can fast charge both i5 models from 10 to 80 percent in about 30 minutes. BMW even introduced a "Plug & Charge" function that automatically authenticates itself when you're at compatible public charging stations, saving you from verifying with your phone or a charging card.
While the i5 design feels fairly standard, BMW did decide to modernize the kidney grille for the i5, making it jut out from the hood and surrounding it in contour lighting.
Inside, BMW went with a 12.3-inch infotainment display and a 14.9-inch control display. You can play video games on the larger display while the i5 is stationary, which should make your charging pit stops a little less of a chore.
Like most EVs these days, the i5 comes loaded with smart driving features, but the most interesting is its Active Lane Change Assistant, which takes a novel approach to lane-switching confirmation. With BMW's feature, the i5 will suggest lane changes while you're driving, and to confirm, all you need to do is look at the corresponding exterior mirror. BMW doesn't say so, but clearly eye position is monitored by some kind of in-car sensor.
There are also your typical driving assistance features like Steering and Lane Control Assist, Distance Control with a Stop & Go function, and a Highway Assistant that lets you take your hands off the steering wheel at speeds of up to 85 mph — you still have to keep your eye on the road though.
BYE BYE BOXY DESIGN
BMW says the i5 models will hit the markets in October 2023, but didn't reveal any pricing details yet. If you're a fan of BMW's older styling cues, the i5 is definitely a departure from that. With the i5 being the fourth EV in its lineup going for this modern look, we have a good sense of how BMW's EVs will look going forward.
BMW has really laid out the groundwork for its future EVs, so they'll likely be a disappointment to all the boxy BMW lovers out there. At least the kidney grille still lives, albeit modernized. Of course, there should be more electrified BMW models on the way since the carmaker is looking to hit 10 million all-electric cars delivered by 2030.