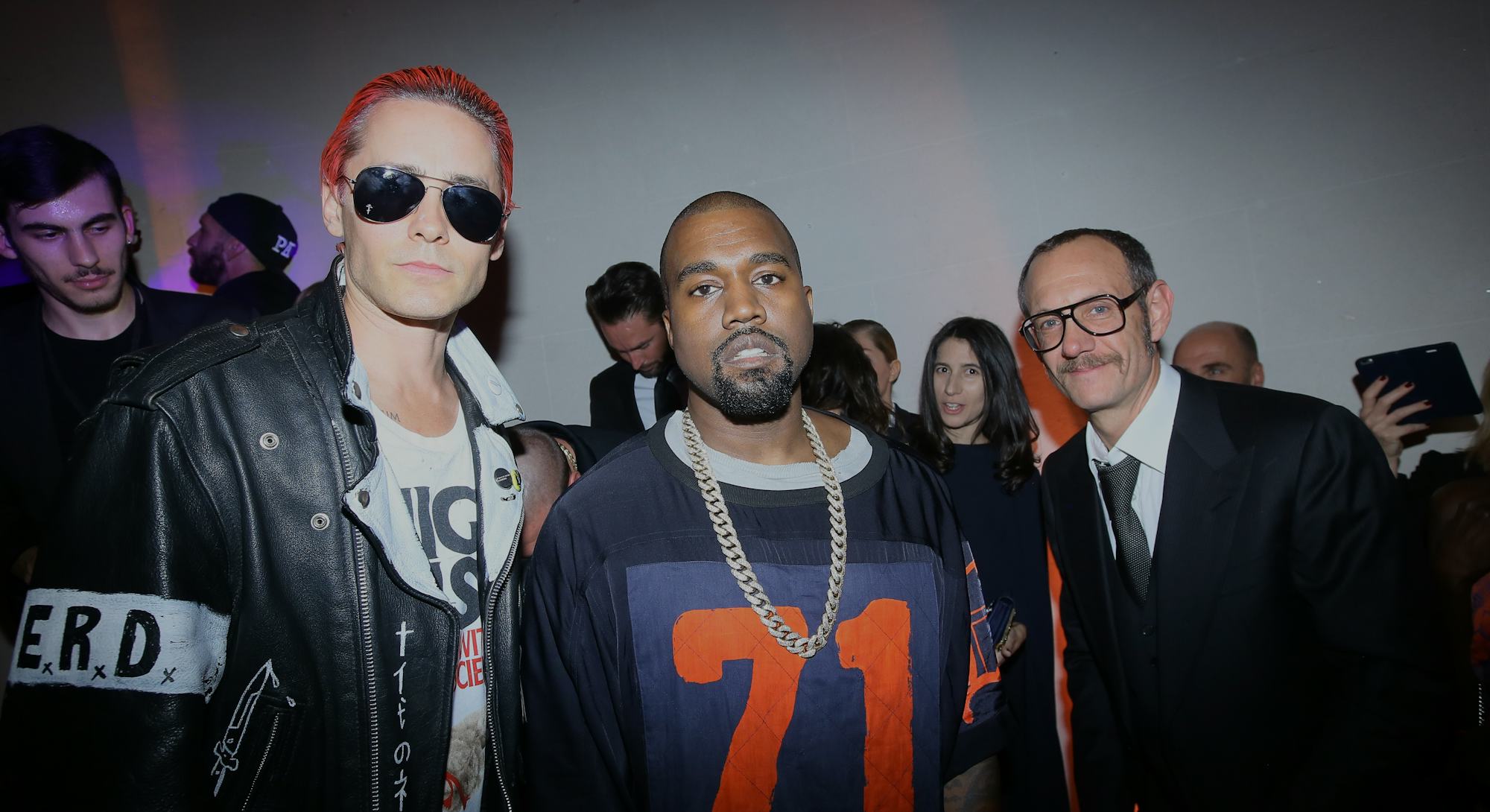 Entertainment
2015: The Year the World's Biggest Rapper Didn't Rap
Kanye West: A Year in Review.
Victor Boyko/Getty Images for Vogue
Kanye West, quite possibly the biggest male celebrity in music, officially dropped just two songs in 2015. And that's being generous. On January 24, Rihanna shared "FourFiveSeconds" with West and Paul McCartney. By then, West had dropped "Only One" with Macca, but that was technically in 2014. Then in March, West released his only solo track of 2015 (and even that has three featured artists): "All Day." So, in short, 2015 was the year that the biggest rapper in the entire world — a self-avowed fuckin' rockstar — did not rap.
So, if he wasn't rapping, what was he doing?
January
2015 started off promisingly for West. As mentioned, he dropped "Only One" on New Year's Eve. It's an Auto-Tuned ballad with Paul McCartney providing very McCartney-ian keyboard chords behind his vocals. Then came "FourFiveSeconds." One month, two Kanye songs. At that rate, his album was going to sprawl at The College Dropout and Late Registration lengths. He even hopped onto Big Sean's mega "Blessings" with Drake. He closed out the month with the Spike Jonze-directed video for "Only One."
Kanye West was already dominating the music news cycle before anyone else got the chance to have a word. He was releasing — mostly — quality music, hinting at very new, very different directions to his sound. The momentum looked momentous.
February
For his next move, West hinted at some non-musical projects for the year. He launched Yeezy.Supply, a website documenting the process behind his Yeezy Season 1 fashion line for Adidas. From there, Adidas officially announced his first shoe for the brand: the Yeezy Boost 750.
Along with the clothing came tunes. He debuted "Wolves" (featuring Sia and Vic Mensa) in the background of the Yeezy Season 1 show. It's his most Auto-Tuned song yet, with nearly indecipherable, vague lyrics. He then performed it on the Saturday Night Live 40th anniversary special. At the time, it looked like his next big single.
Perhaps most importantly, however, was West's behavior at the Grammys. He almost interrupted another award show speech when Beck won Album of the Year for 2014's Morning Phase. He didn't stop the show, though. Instead, he waited until it was over and said, "Beck needs to respect artistry and he should have given his award to Beyoncé, and at this point, we tired of it."
Not lost amid the near-outburst was an actual performance at the Grammys. He did both "Only One" and "FourFiveSeconds" because, in Winter 2015, Kanye West seemed interested in releasing an album. He then did "Only One" on Scandinavian TV, England's The Jonathan Ross Show, and at his own Roc City Classic concert. (At that Roc City concert, by the way, he introduced motherfucking Fetty Wap to a much greater audience.) It was in February, too, when West debuted "All Day" at the BRIT Awards. He really, really wanted an album — one that he said was "80 percent done" — to drop in 2015. Or so it seemed.
March
It happened. It finally happened. Kanye West announced his next album title, along with some mysterious art (possibly taken from a metal band):
There ya have it. Kanye Album 2015: Ready 2 Go. It seems like West felt the same way. After a whirlwind month of performances and premieres, he kind of took March off. He released a nudity-filled magazine called Season to tide fans over. He was also introduced as an "owner" of Tidal, Tidal, the Jay Z-backed premium streaming service.
It seemed like a necessary comedown from January and February's insanity, but it was also the beginning of future inertia.
April
After a brief lull, West returned with "U Mad." It's actually Vic Mensa's song featuring West, but it has Yeezus's fingerprints all over it.
Without music to release and new clothes in the relatively distant future, West had some time for himself. He probably watched some good movies.
May
Remember that album title West announced in March? So Help Me God? Forget it. The album, as it's still known today, is going to be called:
West also got back on the live appearances horse. He unexpectedly rapped "All Day" during a timeout at a Chicago Bulls playoff game. He also frustratingly performed censored versions of "All Day" and the Yeezus cut "Black Skinhead" at the Billboard Music Awards. Additionally, West got an honorary doctorate from the School of the Art Institute of Chicago, at which he gave a speech, and he also spoke at the Los Angeles Trade Technical College.
Kanye and Kim Kardashian West also celebrated their one-year wedding anniversary on May 24.
Dr. West was both here and back.
June
But just like that, West eased up again. He performed at England's Glastonbury Festival, a show that featured a Justin Vernon appearance and a stage heckler. Otherwise, good show, no new music.
Maybe he was distracted by the prospective birth of his second child. He and Kim announced her pregnancy on June 1.
Also, Adidas released West's Yeezy Boost 350 on June 27.
July
At this point, West had not released new music of his own since February. It was, thus, welcome news when he released a nine-minute, Steve McQueen-directed music video for "All Day/I Feel Like That." Unfortunately, it screened only at the Los Angeles County Museum of Art, so it does not exist online. There is, however, a handy New York Times description of the video:
"Filmed in a single nine-minute take at the Chatham Dockyard in southeast England, the video follows Mr. West through an empty warehouse as he runs, crouches, dodges, raps, rants, sweats and pants, as if being pursued by the camera or the police or in pursuit himself, until he slumps against the wall to catch his breath. At several points Mr. McQueen's focus is so tight that Mr. West's face cuts in and out of the frame. At one point, the camera keeps its distance as Mr. West raises hands above head in a gesture of surrender."
August
As the summer continued, it began to look less and less likely that SWISH would arrive in 2015. What did arrive, however, were "pirate black" Yeezy Boost 350s.
What else? The song he produced for the Weeknd, "Tell Your Friends."
And, as the month waned to a close, Kanye West did the previously unimaginable: He announced a 2020 run for President of the United States of America during his acceptance speech for the Video Vanguard Award at the MTV VMAs.
Without doing much musically (because he could make that Weeknd beat in his sleep), Kanye West captured the world's attention. Even with an album supposedly on the horizon, it was easily the peak of his year. It got him a New Yorker cover and got people, including Barack Obama, thinking about the real possibility of the West Administration.
September
Fresh off the presidential announcement, West got the world excited about him. Perfect timing for the second installment of his Adidas line: Yeezy Season 2. He used the second show to premiere another new song, "Fade" with Ty Dolla $ign and Post Malone. Unlike Season 1's "Wolves," however, West has not revisited the track. In fact, he kind of backed away from it in a Vanity Fair interview.
"We had a couple options and I just thought it sounded good against the people. For the 40 theaters across the globe, for the kids that all went to see it in theaters, I thought they'd be happy to hear some new music. I've been doing that [making a new album] too. That's like a sonic landscape, a two-year painting. That song I played has been a year and a half in the making and it may be still a year from being complete. But it was to let people get a glimpse at the painting."
In that same interview, he forgot his own album's title. He said, "It's currently called Swish. I'm forgetting even what the last name of it was now." Music-making should obviously be West's last priority when he's making shit like this:
October
More teases! He dropped two "new" tracks, although neither was actually new. One was a reworked version of 808s & Heartbreak's "Say You Will" and the other was a freestyle over "Tell Your Friends" that he's calling "When I See It."
Even if they're more like updates, it was a reminder that, yes, West is still focused on putting out an album. He's even taking inspiration from his own past.
From the extracurricular files, West's Yeezy Season 1 apparel finally got a public release. He also shared a silent film documenting the making of his clothing.
Most importantly, he told the world who his favorite director is, just ahead of Back to the Future Day:
November
To start, West and Adidas launched the third colorway for the Yeezy Boost 350s: Agate Gray/Moonrock/Agate Gray. They're still 🔥.
Next, Sandcastle Kings — the book by friend and Inverse interviewee Rich Wilkerson, Jr. — dropped. West designed the cover.
Lastly, West handed over some G.O.O.D. Music responsibilities to Pusha T, whom he named President.
December
That brings us to where we are now, December. The biggest moment of the year for West (and probably in a three-way tie for best moment of his entire life) happened on December 5, 2015. His first son — his second child — Saint West was born.
West and Adidas are also updating the Yeezy Boost 750s for the first time, giving it the triple-black treatment. This new shoe comes on the heels of West winning the Footwear News Shoe of Year at the FN Achievement Awards for the Yeezy Boosts.
And just yesterday, West gave the most promising news he's been able to offer in a long time: an album.
Kanye West spent 2015 doing just about everything except for releasing his album (SWISH, So Help Me God, or whatever it'll be called). He released new music. He collaborated with the Weeknd, Travis Scott, Wale, Ty Dolla $ign, and more. He dropped a lot of new shoes. He said some funny things. He grew his family.
He also kept the world enrapt without doing just a whole lot more than any other working person accomplishes in a year. The most prolific rapper, he may not be. The best, certainly not. But the greatest alive? Kanye's banner year proves that title is his until he tweets otherwise.