Who Will Kanye West Face for the Presidency in 2020?
Taking Yeezy's promise seriously in an era of Deez Nuts.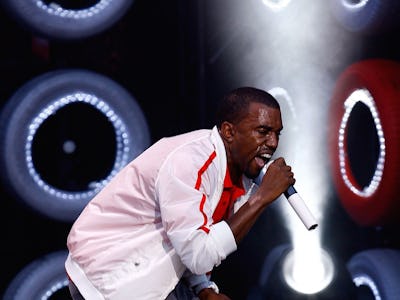 Getty
Kanye West's rambling, 13-minute VMA speech careened from parenthood, the absurdity of award shows, and the struggle for artistic integrity pivoting only on a well-placed "bro" before finally inspiring himself enough to announce a presidential bid in 2020. Which is to say we're fools for assuming we know what's in Kanye's head, but for now let's guess he considers himself a liberal. Who's Yeezus going to be campaigning against?
Depending on how the 2016 election goes, West's going to have a few options. Let's say Hillary wins it all. That would de facto force Kayne into running as an independent, which frankly suits him better. Just look at how West struggled to be accepted by the establishment in the fashion world. No, West is his best self when he's playing the outsider. If he can just get a solid, say, 15 percent of independent voters on the "2020 and Heartbeak" ticket (millennials) the college dropout could have enough to play spoiler, then Hillary would be indebted to him for dropping out of the race and West could establish himself as a political kingmaker. By the time West is lacing up his limited edition campaign sneakers, the nation will refer to this maneuver as "Trumping."
But say a Democrat isn't in office come the end of the decade. It seems unlikely Hillary would try for the nation's highest office a third time, and Bernie Sanders would be pushing 80. That leaves the field wide open with West in early to build a base. He could be in Iowa this time next year, eating sweet corn, telling the Des Moines Register that his one regret in life is that he cannot witness the glory of himself giving a campaign speech. Here again, West could get enough of the vote to bargain with, or, what the hell, get Northwest a crib in the White House. Conversely, a dejected West could find himself rushing the stage of Republican rival Marco Rubio's acceptance speech and snatching the mic away to ask America like, what the fuck, yo?
Perhaps a better strategy would be to get himself chosen as the veep candidate. West could balance out the ticket for any old, white, establishment politician. Plus he's adapt at being the attack dog, going hard at the opposition while the president maintains a dignified reserve. It's a win-win proposition really, as not only does it offer something to more traditional candidates but sets up West to learn to game and prove himself before announcing another presidential run in 2028. Who wouldn't vote for a Biden-West package?
Thus concludes my interpretation of everything Kim had to listen to on the limo ride home last night. In any event, we all should've seen this coming a decade ago.