8 Best Music Videos This Year So Far
Taylor Taylor Taylor Taylor Taylor Taylor Taylor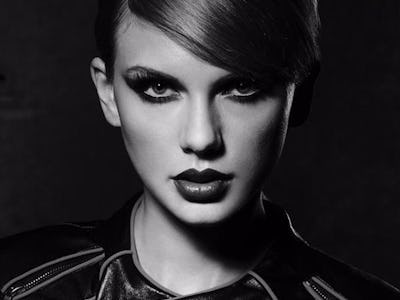 Taylor Swift (@taylorswift13)
Yesterday, Kendrick Lamar released the video for To Pimp a Butterfly's "Alright" – an instant classic. Although Kendrick may have already grabbed the top spot for Video of the Year, here are eight more candidates that prove the music video is far from dead in a post-MTV world.
Taylor Swift: "Bad Blood" (dir. Joseph Kahn)
Swift's video succeeds not only because of the bevy of celebrity cameos (Selena Gomez, Kendrick Lamar, Lena Dunham, and Cara Delevingne, among others), but also because of its perfectly executed storyline. Catastrophe (played by Swift) gets betrayed, trains, and exacts revenge on the main villain, Arsyn (Gomez). Simple, straightforward, awesome, Taylor.
Kanye West: "Only One" (dir. Spike Jonze)
"Only One" is the sweetest video of the year. It's essentially a home movie from Kanye to his daughter, North…that happens to be directed by Oscar-winner Spike Jonze. We hear Kanye try to sing over the track, unable to replicate his own Auto-Tuned voice. It's endearing. He doesn't care. Kanye's face glows when he's with his daughter.
Donnie Trumpet & The Social Experiment: "Sunday Candy" (dir. Austin Vesely, Ian Eastwood, and Chance the Rapper)
Shot in one take, the "Sunday Candy" "short film" is an absolute joy. There's a great throwback vibe, bolstered by a musical-style group dance routine. The camera moves continuously, capturing the song's momentum.
Vince Staples: "Señorita" (dir. Ian Pons Jewell)
The video for Staples's Summertime '06 single is jarring, crisp, and beautiful. At its close, we see a happy white family watching the inner city's destruction from behind a glass. It's a heavy-handed but effective message about Staples's role as a black artist with a white audience.
Kendrick Lamar: "King Kunta" (dir. Director X)
Kendrick gets his third mention here. "King Kunta" is a celebration. Compton isn't just an inspiration for Kendrick. It's his home. He wants to show the real faces of Compton to the world.
Big Sean: "Play No Games" (dir. Mike Carson)
Big Sean shows that not all videos have to be serious to be good. The "Play No Games" video is an homage to Martin Lawrence's 1990s sitcom, Martin. Sean has some fun playing off sitcom tropes and casting himself as a total goofball.
Mike WiLL Made-It: "Choppin' Blades" (dir. Motion Family)
Riff Raff singlehandedly carries this video as Sharky McStevenson, a 20-year vet in the car sales business. It's a big party, and pink-haired Sharky's supplying the whips.
Kool A.D.: "Hickory" (dir. Youth Experimental Studio)
"Hickory" is the final video from Kool A.D.'s 2014 album Word O.K. (Kool, prolifically, made a video for each track.) "Hickory" is blissed-out watercolor animation that matches the song's laidback '90s vibe.