New Kendrick Lamar Video Good
Kendrick Lamar balances history and fame in the "Alright" video.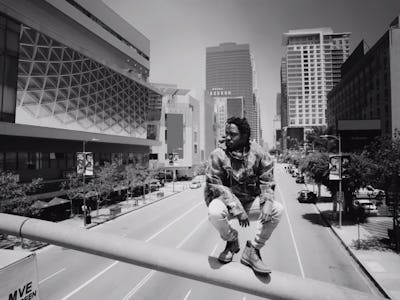 "Kendrick Lamar - Alright"/KendrickLamarVEVO/YouTube
Kendrick Lamar just dropped the video for "Alright" from this year's epic To Pimp a Butterfly. It's the second video from the album, following "King Kunta" (third, if you count last year's "i" video).
The video starts gloomy, with shots of Compton, destruction, and police violence. Also, "Alright" isn't playing. There are clips from "u" (the song that precedes it on TPAB), Kendrick's poem from the album, and some soundbites from "Cartoons & Cereal" (a track with Gunplay that didn't get cleared for good kid, m.A.A.d city). Then, things get brighter and Kendrick is in a car (rocking a '47 Brand Dodgers hat) with the Black Hippy crew. He spits an unheard freestyle. And then it turns out that four fat white cops are carrying the car.
The video for "Alright," proper, is similar to the "King Kunta" visual in that it celebrates the actual people of Compton, who inspire Kendrick. Kendrick also performs a tightrope balancing act on a classic Southern California streetlight. He walks on thin air, too. He is really larger than life. Still, toward the end, an old white police officer makes a gun with his fingers and shoots Kendrick down. "Alright" is the most celebratory track off TPAB. But even amid the celebration, someone else can make it all come crashing down.