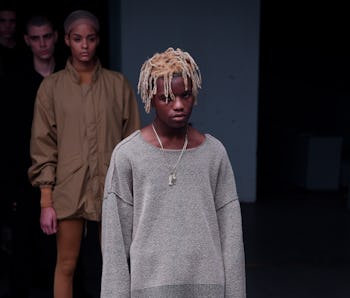 Entertainment
Kanye's Latest Fashion Line Isn't for the People 
Is that sweatshirt $2000? What about the kids? 
Theo Wargo, Getty Images
Today it was revealed through the Japanese magazine SENSE the full price details of Kanye West upcoming Yeezy Season 1 line with Adidas. After much talk from West about making sure that he was going to be reaching the people and wanted to break down the fashion world's barriers, one might expect that his new collection might be slightly within range of an average person. Or maybe even along the price of his A.P.C. collections. Nope, and double nope.
The prices of this collection range from $160 for a jersey tank to nearly $4000 for a shearling coat, with most items falling into a median price of $500-$800. Now these prices are not awful if one is about to ball out at Alexander Wang or Dior, but for the average fun of Kanye West or just even someone curious about his next steps into fashion, these prices are immediately exclusionary. One can say a few hundred dollars for Yeezys are too much, but when a sweatshirt is a couple thousand, which could buy up to five pairs of Yeezys, might as well walk on feet and on hands.
Maybe these prices will at least keep all lines for this stuff relatively short. Kids might line-up for Yeezys, but even they'll pause at $3000 coat.