5 Takeaways From Kanye's Glastonbury Set
From Bon Iver to Queen to a stage crasher.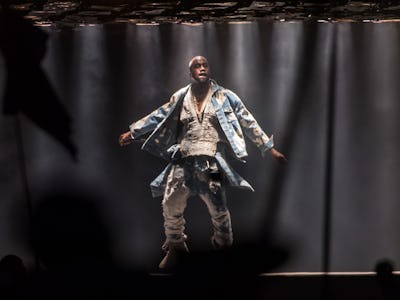 Ian Gavan via Getty Images
Kanye West performed the headlining set at Glastonbury Festival on Saturday. Over 130,000 people signed a petition to "Cancel Kanye West's headline slot and get a rock band." West's performance was, to say the least, highly anticipated. Although he didn't do anything too out of the ordinary and he didn't deliver a patented sermon – even with odds at 7/1 that his "rant" would last over 30 minutes – West gave a great 105-minute career-spanning performance. Here are five takeaways:
1. He might have more music coming with Bon Iver's Justin Vernon.
West's only notable guest on stage was Justin Vernon of Bon Iver. West called Vernon "one of the baddest white boys on the planet," and he revealed that the lyrics to "Lost in the World" (a West/Vernon collab from My Beautiful Dark Twisted Fantasy that samples Bon Iver's "Woods") were actually written first in email form to Kim Kardashian.
West also said, "We did some more joints together." Many have taken that statement to mean there'll be new West/Vernon collabs. That may be true. But West did transition right into "Hold My Liquor," his collaboration with Vernon (and Chief Keef) from Yeezus. West likes to keep us guessing, but it certainly wouldn't be surprising to see West and Vernon collaborate once again.
2. Kanye knows the words to "Bohemian Rhapsody" just as well as you do.
West unexpectedly covered Queen's "Bohemian Rhapsody." At first, it seemed like it might lead to new material, but West just started singing along with Freddie Mercury; it's impossible not to. Some have been harsh, criticizing West for not knowing the lyrics completely by heart. But he was 90 minutes into his set when Queen started playing. Forgive him for knowing the words just as well as your drunk dad at your cousin's awful wedding.
3. People care that some asshole got on stage.
Toward the beginning of the set, English comedian Simon Brodkin got on stage just as "Black Skinhead" began. West had to regather while security apprehended Brodkin. The show continued as if it never happened. The stage crashing was quite notable, with every major site giving Brodkin the spotlight he craved. Apparently, Brodkin plays a character, Lee Nelson, and Nelson is the one who was on stage. Referencing the petition to cancel West's set, Nelson tweeted his lame motivations prior to the show:
We really need to hurry up and ignore this guy again.
4. All of his material still sounds relevant.
The College Dropout came out 11 years ago now. It still sounds fresh, especially the immortal and progressive-sounding "Jesus Walks." Despite many personal claims of disowning his own discography (he famously told The New York Times that My Beautiful Dark Twisted Fantasy was a "long, backhanded apology"), West transitions stunningly and seamlessly from album to album. His music has always had a real timelessness to it because he's usually the person setting the trend, never following it. Case in point: he opened with 2007's overplayed Graduation single, "Stronger." The crowd went nuts. I went nuts.
5. We still don't have any idea what 'SWISH' will sound like.
West played only two new songs, "FourFiveSeconds," which sounded better live in the larger-than-life festival atmosphere, especially with West singing both his and Rihanna's verses, and "All Day." But we're not even sure "FourFiveSeconds" will be on his upcoming album, SWISH. West seems to be distancing himself from "Wolves," what was once teased as SWISH's opening track. In addition, after performing it multiple times during the winter award season, West appears to be done with performing "Only One," his ballad from the perspective of his mother to his daughter. West gave no teasers for the new album. For all we know, it's a Queen cover album with Justin Vernon on vocals and some comedian asshole popping up every few tracks.