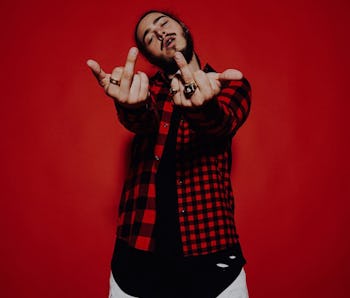 Entertainment
Post Malone Should Stay in the Background
New single "Holyfield" Is an underwhelming "White Iverson" followup
Post Malone's Instagram (@postmalone3)
Post Malone is the alias of Dallas sing-rapper Austin Post. Post catapulted to fame on the back of "White Iverson," an understated song that emphasizes mood and taglines, letting his verses drift comfortably into the background.
On his followup single "Holyfield," Post divulges little, letting a Mike Tyson allusion do the heavy lifting. ("Bitch biting on my ear like I'm Holyfield," of course, makes "her" Mike Tyson, who famously bit off part of Evander Holyfield's ear.)
The song sounds pretty good, with production from FKi , Charlie Handsome, Rex Kudo, and Lifted, but is ultimately lacking any substance. Post spends four verses of the chorus telling you he has zero (repeat, zero) fucks to give. With a knack for vibe, Post Malone is worth keeping an eye on, but as of now, his music has shown little sign of deserving play beyond the background.