Happy 'Back to the Future' Day: October 21, 2015 Has Arrived
Here are all ways to celebrate the 30th anniversary of the adventures of Marty McFly and Doc Brown.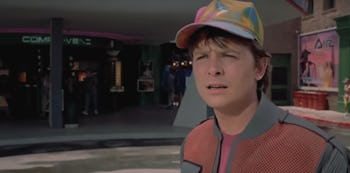 www.facebook.com/BTTF
It's been a hoax for far too long, but today — right now — Marty and Doc have travelled through time from 1985 to our present at 4:29 p.m. on October 21, 2015. Yes, today is finally Back to the Future Day. It's bittersweet for fans of the time-travel trilogy who have always looked forward to this day. The movies no longer take place in the future, and they're part of the past now.
But today isn't a day to be sad about fictional time travelers. No. Today is a day to celebrate the adventures of Marty McFly and Doc Brown that we've loved for 30 years.
Here's Christopher Lloyd reprising his role as Doc Brown in this brief message about October 21, 2015. Great Scott!
Here's all you need to know about making today the best Back to the Future Day you can. Remember, you don't have a time machine to go back and re-live it.
First and foremost, check out the brand new 30th anniversary Blu-ray and DVD set of the movie trilogy. The "Complete Adventures" even include the animated series, a 64-page visual history book, and packaging that looks like the Flux Capacitor. The set also includes a new short film starring Christopher Lloyd as Doc Brown.
If you already have the movies, be sure to scoop up a copy of the Ultimate Visual History of the Back to the Future Trilogy.
If you're a bigger fan than that, check out our how-to on dressing exactly like Michael J. Fox's teenage time traveller.
If you're a real fan, you'd make it out to the ultimate Back to the Future Day event called "We're Going Back," that's taking place throughout Los Angeles today. If you find yourself in the area and need a primer on the best events: Look no further.