Amazon Prime to Stream the 'Back to the Future' Trilogy for Free in October
Go back in time with Doc and Marty without spending money.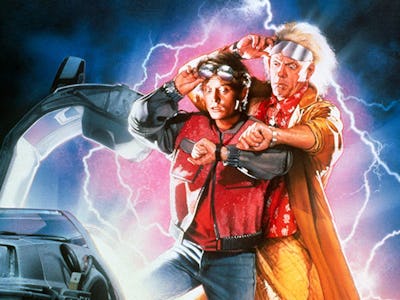 www.backtothefuture.com
People love free stuff, and our readers deserve some awesome free stuff. Next month Amazon Prime subscribers can hop in the DeLorean and speed through time with Doc Brown and Marty McFly for no extra charge just in time for the 30th anniversay Back to the Future day celebrations.
Under a new deal with Universal Pictures, all three films in the Back to the Future trilogy will be available to watch on Amazon's streaming service for one month. It's the first time director Robert Zemeckis' influential time travel adventures starring Michael J. Fox and Christopher Lloyd will be streamed on a subscription VOD platform.
This is a brief but huge push for Amazon Prime, which has already scored original TV hits and is attempting to beef up its movie catalogue even if it's only temporary. People caught up in the trilogy's anniversary festivities will no doubt flock to the service to watch the films, and not just to stream them.
Earlier this month, Amazon added an offline download function so users can watch Prime content on devices wherever they go regardless if they have access to wi-fi. This one-month window for BttF will give current and new subscribers the opportunity to essentially own digital copies of the movies for free. It's a similar move that Paramount introduced last month by making digital copies of all four previous Mission: Impossible movies available to own before the release of Rogue Nation.
The move is also an incentive for people to buy the new 30th anniversary Blu-ray release of the films, which is also heavily discounted on Amazon. Besides having the exact day Doc and Marty go to the future, October is gearing up to be quite a month for Back to the Future fans.