Stream the First Four 'Mission Impossible' Movies for Free Right Now
Paramount is offering them on its UltraViolet service.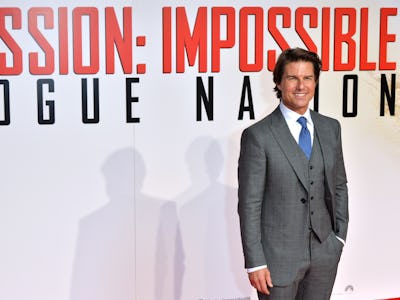 Getty Images
Good news for fans out there hoping to go back on some impossible missions before Rogue Nation — which currently stands at an impressively fresh 96 percent on Rotten Tomatoes — drops in theaters on Friday.
Paramount has gone and put up each of the first four entries in the surprisingly durable Mission: Impossible franchise for free on UltraViolet, the cloud-based streaming service that you usually get codes for and then immediately throw away when you buy Blu-Rays.
To grab the over eight hours worth of Tom Cruise getting into some spy movie shenanigans, sign up for an UltraViolet account and add each movie to your library to stream them from basically any device this side of a Game Boy. If you already have an UltraViolet account, just agree to link your account with Paramount and you're good to go.
The deal is only good for U.S. residents and could end any time, so get yourself clicking over here for an Ethan Hunt marathon right now if that's a mission you choose to accept.