'Back to the Future' Will Turn 30 in Style
Good news: Marty and Doc Brown will be back in theaters. Better news: Not in a sequel.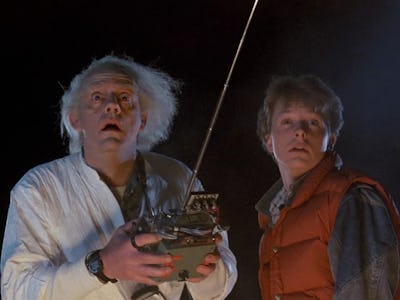 YouTube.com
To mark the 30th anniversary of the nostalgia-infused time-travel trilogy Back to the Future, Universal Pictures is releasing the movies in theaters on October 21, 2015 — a date fans will remember as the day Marty and Doc travel to the future in Back to the Future Part II. A new Blu-Ray/DVD set will land the same day, just after a vinyl picture disc soundtrack comes out October 16.
The details on the new home video release basically mirror the previous version released five years ago for the 25th anniversary, but the new release includes a bonus disc with two hours of previously unreleased goodies.
New bonus features include:
All new original shorts: Including Doc Brown Saves the World!, starring Christopher Lloyd.
OUTATIME: Restoring the DeLorean: An inside look at the 2012 restoration of the most iconic car in film history.
Looking Back to the Future: A nine-part retrospective documentary from 2009 on the trilogy's legacy.
Back to the Future: The Animated Series: 2 episodes ("Brothers" and "Mac the Black") from the 1991 series featuring live action segments with Lloyd as Doc Brown.
Tales from the Future, a 6-part documentary on the making of the movies
For completists, they're also offering a package that includes the new Blu-Ray/DVD pack and a DVD release of all 26 episodes of Back to the Future: The Complete Animated Series housed in a light-up case that resembles the Flux Capacitor. So, yeah, hardcore fans only need apply to that one.
All the time traveling ruckus is fitting for the 2015 anniversary, but it shows the lengths Universal needs to go to cash in on an otherwise inert property. We wrote last month that the rights to any big-screen adventures with Marty and Doc Brown belong to director Robert Zemeckis and producer Bob Gale, who wrote an ownership stipulation into their contract when the movies were originally released in 1985. The pair are adamant that they won't let the film be remade, so we get more of the same, instead of a reboot. Everything considered, it's a welcome notion, if retro.