Ranking These 'Back to the Future' Shirts
Unfortunately there isn't a self-drying jacket.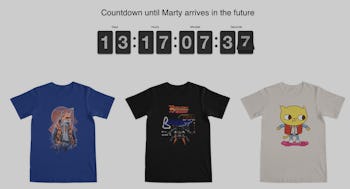 Threadless
Preparations for the Back to the Future Day festivities are in full swing, with seemingly everybody willing to jump on the BttF bandwagon to celebrate the trilogy's 30th: We're getting Pepsi Perfect, probably getting self-lacing Nikes, and you can also scope out a trailer for Jaws 19 before watching the entire trilogy for free on Amazon Prime.
Now, t-shirt collective Threadless has introduced a line of Back to the Future themed duds for your consumption to let the world know you're part of the most casually cultish fan community in the cinematic universe. They've even included a handy clock to countdown to the moment Marty and Doc travel to 2015. While all 21 designs are fairly snazzy for you to throw on a t-shirt, hoodie, and more, here are our ten favorites.
10. Greetings!
We wish this one would have included Hill Valley in there somewhere, but you still get a glimpse at some of the best moments of the trilogy in the postcard-inspired design.
9. World's First Time Traveler
You know who doesn't ever get their fair shake? Einstein the dog, a.k.a. the world's first time traveler. If this brave pup hadn't made it through time that fateful night at the Twin Pines Mall, Marty and Doc would have never gone on their conveniently kooky adventures.
Back to the Future Part III also doesn't usually get a fair shake, but it's a pretty fun Western on top of a pretty fun sci-fi comedy. The DeLorean in the Old West gets its due with this design.
7. Second Coat
Nobody throughout history has been a fan of Biff Tannen or his descendants, but he sure does put a mean coat of wax on Marty's 4X4.
6. MJ Fox
Oh, we get it. This is literally Michael J. Fox.
1.21 jigawatts in 8-bits sounds good to us. There was a pretty lackluster BttF video game a few years back, but a racing game featuring the DeLorean would blow that one out of the water.
4. Hoverboard!
If you can't get a hoverboard in real life why not just wear a design of it plastered on your new favorite shirt?
3. Vote Goldie
Wear this design out to make people think you're mindful of the upcoming election, and when they ask about it be sure to remind them to re-elect mayor Goldie Wilson in the Hill Valley mayoral election instead.
This design seems like a fairly straightforward take on the three-pronged Flux Capacitor — until you look a bit closer. Each energy flow of the Y design of the Capacitor is made from the fiery tire treads made by the DeLoreans from each of the three movies in the trilogy.
"You bojo! Everybody knows hoverboards don't work on water unless you've got power!" While we like Marty's classic hoverboard, we think we'd choose Biff's Pit Bull hoverboard just so we could float across the East River if we need to get to Manhattan and don't want to take the subway.