Pepsi to Honor 'Back to the Future' Anniversary With Collectible Bottle
The Pepsi Perfect bottle is the same design from 'Part II.'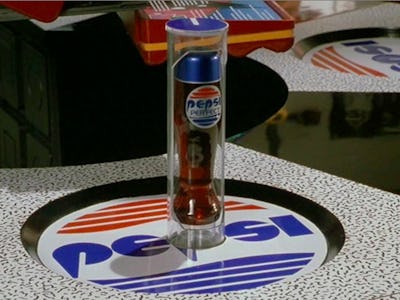 YouTube.com
Pepsi is getting into the Back to the Future 30th anniversary festivities by putting out a piece of perfect Back to the Future Part II ephemera. Fans of the second installment may remember when Marty travels to the distant year 2015 — on October 21 to be exact — he enters the Cafe '80s in futuristic Hill Valley and is given the fictional soda, Pepsi Perfect, to drink. This October 21 the company will release a limited edition collectible Pepsi Perfect bottle modeled after the one from the movie for fans to buy.
The collectible 19.6-ounce bottle will literally be $20.15 a pop, and will include good old fashioned Pepsi made of real sugar instead of artificial sweetener. That price is a bit more steep than your average $1.50 bottle, but way less than the $50 Doc Brown gives Marty for a refreshing drink in the movie.
Only 6,500 Pepsi Perfect will be produced and sold online, but spokespeople for the soda company told USA Today to stay tuned to the company's social media account closer to October 21 — a.k.a. Back to the Future Day — to see where to purchase it. A message on the official Pepsi website only lists Amazon as an outlet to purchase bottles of their promotional soda, but expect there to be more outlets added.
Lucky attendees of New York Comic Con this week will be the first people to get their hands on one, but there's a catch. According to the press release: "Each day, the first 200 fans who come to the Pepsi Perfect Booth (#CP101) dressed as Marty McFly will take home their very own Pepsi Perfect." McFly costumes must include "Puffy red vest or Back to the Future Part II jacket," jeans, white high-top sneakers, and a watch. Hoverboards are optional. If you don't feel like dressing like Marty, you can try your hand at Wild Gunman. "Every day starting at 3 p.m., fans are invited to come to the Pepsi Perfect booth and play Wild Gunman for a chance to win Pepsi Perfect," the press release says. "Bottles will be awarded to the fastest gunman in town, so start practicing."
This adds Pepsi to the long list of companies cashing in on BttF's birthday. Nike hinted that they will release versions of the self-lacing Nike Mag shoes from the second movie, and AMC Theatres will show marathons of trilogy starting on October 21 as well. Also, Reston, VA agreed to change its name to Hill Valley from the 21st to the 25th. We're just waiting on Lexus to start making consumer versions of their hoverboard, then we'd be set.