'Back to the Future' Day: 'Jaws 19' Gets a Trailer
This time it's really, really personal.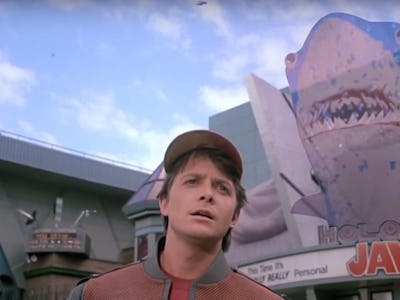 YouTube.com
Yesterday we brought you the news that Pepsi Perfect was coming true in honor of Back to the Future's 30th anniversary, and now Universal Pictures has just released a trailer for Jaws 19. While this shark attack nineteenth-quel isn't coming to theaters anytime soon, it's still a quirky hat-tip from Universal to the VR movie that was playing when Marty McFly traveled to 2015 in Back to the Future Part II.
Taking a page out of the ridiculously funny end credit sequence from 22 Jump Street, the minute-and-a-half-long clip runs through the dozen or so sequels to the original movie that nobody asked for. There's cyber Jaws, robot Jaws, Jaws in outer space, a prequel, a sequel to the prequel, an installment when Jaws fights a Russian shark named Ivan Sharkovski, and our personal favorite: Jaws 16, a.k.a. Jaws takes Manhattan.
It's a fitting tribute to the scene from the BttF sequel, but also kudos to Universal for the half-joking jab at its own tendency to churn out increasingly absurd multi-movie franchises. The studio is currently on an eighth Fast & Furious movie, and there will be at least three more. If they ever do make it to Fast 19 we kind of wish they'd do a Jaws crossover, which wouldn't be half as ludicrous as some of the stuff that happens in those movies.
As Back to the Future Day approaches on October 21, we're keeping an eye out for even more 30th anniversary tie-ins. While drinking our Pepsi Perfect we'll be on the lookout for some of Marty's self-lacing Nikes or for an actual flying DeLorean.