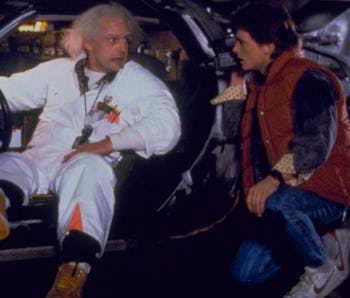 Entertainment
Doc Brown Returns In New 'Back to the Future' Short Film
A new teaser says the short will be available on the 30th anniversary Blu-ray.
www.facebook.com/BTTF
Back to the Future day is fast approaching on October 21. To shill for the brand spanking new 30th anniversary Blu-ray trilogy that's being released at the end of next month, the people behind the set have created a new short film called Doc Brown Saves the World, featuring Christopher Lloyd in his most iconic role.
A teaser for the short film, which will only be available on the Blu-ray, has been released online. It shows Lloyd stepping out of everybody's favorite time traveling DeLorean and looking suitably flustered before messing with a gadget that shorts out the video feed to the video. The famous "To Be Continued…" title card then pops up onscreen.
Besides the DeLorean, the teaser is alarmingly low budget with a blank white background and nondescript doodads set up behind Lloyd to make it look like some kind of set-dresser's idea of a laboratory. Here's hoping the actual short film won't just be Lloyd bumbling around this set spouting off the best lines from all three movies. Though, to be fair, we'd still be into that.
It's still great to see Lloyd embrace the role that put him on the map. But it begs the question: Has Christopher Lloyd ever not looked old in any movie he's in? Seriously, he was supposed to be a crazy old man in Back to the Future 30 years ago, and he still looks like the same crazy old man now. Even way back in One Flew Over the Cuckoo's Nest he seemed to be up there in age even without the shock of white hair. Either Christopher Lloyd is ageless or he has a time machine of his own.
Check out Doc Brown Saves the World when the Back to the Future anniversary Blu-ray hits stores on October 21.