Ty Dolla $ign's New Album 'Free TC': What to Expect
The Kanye West, Rihanna, and Paul McCartney collaborator gets his studio debut.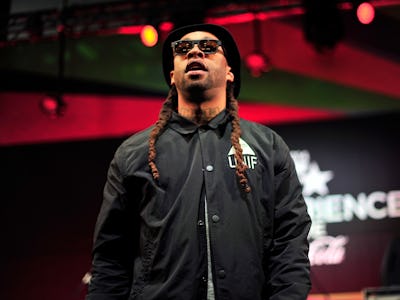 Jerod Harris/Getty Images for BET
Ty Dolla $ign will release his debut studio album Free TC on November 13. Since releasing his breakthrough mixtape Beach House 2 in 2013, Ty$ has collaborated with Diplo and Charli XCX, and got a nod on "Shell Shocked," the lead single from the Teenage Mutant Ninja Turtles soundtrack. He was named to XXL's 2014 Freshman Class despite being more of a singer than a rapper. He released a label-friendly EP, Beach House, too, which repackaged his hit "Paranoid" with a B.o.B verse, giving him his highest-charting single to date.
Most importantly, though, Ty$ caught the ear of Kanye West, and now appears to be a go-to songwriter and vocalist for the hip-hop auteur. He's on West and Paul McCartney's "Only One" and Rihanna's "FourFiveSeconds," which features West and McCartney. Maintaining his influence, Ty$ is even on "Fade," the possibly one-off track that soundtracked West's recent Yeezy Season 2 fashion line. Not only does a West cosign bode well for Ty$'s career outlook, it also further legitimizes him as a viable hitmaker.
In his own work, Ty$ is unforgiving and honest. "Paranoid" is an absurdly catchy song, buoyed by DJ Mustard's featherlight synth production. But Ty$ also demonstrates skilled lyricism, with an array of emotions: He's proud of his infidelity, and although he's aware of its consequences, he dismisses them as figments of his imagination. He's since carried over that same deft touch to "Blasé," Free TC's lead single.
In hip-hop as a whole, money, sex, drugs, and drinking are rapped about so regularly that in less-interesting hands they are trite. Ty$, in response, turns the over-saturation and ennui into a catchy hook, as well as a carefree lifestyle. He still sings, "Smoking kush in public, motherfuck the police / I ain't scared to die, on them dead homies," which indicates an awareness. Once again, he's unforgivingly, deliberately, and honestly ignoring life's consequences.
In further anticipation of Free TC, Ty$ recently released the Airplane Mode mixtape. It's very much a sampling of what's to come. Five of its 10 songs run less than two minutes and end abruptly, indicating there's something there we have yet to hear. "Rich Ni$$a," for example, cuts off guest YG mid-verse. Considering the iTunes pre-order page doesn't include track titles, it would not be a surprise if "Rich Ni$$a" or "Money Ruin Friendships," which features an even more suddenly cutoff guest verse, reappear completed on the studio LP.
The mixtape is a very necessary reminder of Ty$'s ability without sky-high expectations. On the title track, Ty$ simply details a particular scene — "So much kush in my system I can't remember what her motherfuckin' name was" — his voice as melodic as ever. Later, he shows his range on "Violent," produced by DJ Spinz (who did "Blasé," too) and Southside of 808 Mafia (the main architect behind Future's hard-hitting 56 Nights mixtape). Blatant tough talk is not Ty$'s usual territory, so the track could be a single experiment or an indicator of gradual shift in direction.
Ultimately, Ty$ makes infectious, re-listenable music. The key, most likely, is his great — yet nowhere near perfect — voice. The flaws only make it more interesting — similar to "When I See Ya" collaborator Fetty Wap's. It's scratchy yet full, and clearly Auto-Tuned at times. Still, unlike someone like Beyoncé's voice, for instance, there's a sort of intangible approachability because it's good but never approaches something like superhuman falsetto. It also doesn't hurt that Ty$ is a multi-instrumentalist and son of a funk musician. That is, he understands melody at its core.
At 16 tracks, Free TC will somehow be even longer than any of his mixtapes, a format typically designed for length and experimentation. Kanye West and, apparently, Paul McCartney believe Ty Dolla $ign is someone worth working with. Free TC, with a title dedicated to his incarcerated brother, should be his moment to execute his clearest vision with the highest production value he's had yet.