A Guide to the Rise of the Weeknd
Tracing his path from non-entity to pop star.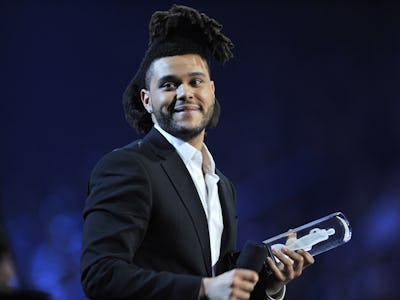 Sonia Recchia/Getty Images
Abel Tesfaye will release Beauty Behind the Madness, his heavily anticipated second studio album as the Weeknd, next Friday, August 28. The album's anchor, "Can't Feel My Face," which recently topped the pop charts, is a serious Song of the Summer contender (it is the Summer of the Weeknd after all), and it's got a fire video. We've asked if the world is ready for the Weeknd (which it seems to be now), but how did the former lecherous lothario achieve stardom so fast?
December 12, 2010: "INTRODUCING THE WEEKND"
Oliver North posted two Weeknd tracks to Drake's October's Very Own Blogspot with the message "INTRODUCING THE WEEKND." The YouTube videos are long gone by now, but they were cuts from the then-unreleased House of Balloons. The attention got the Weeknd their first mention in The New York Times, although nobody knew whether the Weeknd was a band or a solo act.
March 21, 2011: 'House of Balloons'
The Weeknd released House of Balloons to universal acclaim. The album made the shortlist for the 2011 Polaris Music Prize for the best full-length Canadian album.
July 24, 2011: First Live Performance
Tesfaye finally appeared publicly as the Weeknd with his first live show at the Mod Club in Toronto. Drake was in attendance.
November 15, 2011: "Crew Love"
The Weeknd's underground audience was formidable, but Drake catapulted him into the spotlight with a feature on his world-conquering sophomore album, Take Care. Sandwiched between singles "Headlines" and "Take Care" (with Rihanna), "Crew Love" was an impossible track to gloss over.
September 11, 2012: Republic Records
Nearly a year after his Drake feature, the Weeknd was given an opportunity to enter the mainstream by signing with Republic Records, which gave him his own imprint, XO, and re-released his three mixtapes as Trilogy. Trilogy went platinum.
September 27, 2014: 'Saturday Night Live'
After failing to produce anything memorable on his 2013 album Kiss Land, the Weeknd was on the verge of irrelevance before Ariana Grande scooped him up for "Love Me Harder." The duo performed the My Everything cut on Saturday Night Live, and it was subsequently released as a single, reaching No. 7 on the Billboard Hot 100. By holding his own with Grande on national television, the Weeknd solidified his potential to be a legitimate pop star.
December 23, 2014: "Earned It (Fifty Shades of Grey)"
The Weeknd completed his mainstream breakthrough with "Earned It," the featured single for Fifty Shades of Grey. Like the film, it's surprisingly tame. The Weeknd delivers a strong vocal performance over some sultry strings and piano. In 2015, he has gone on to release "The Hills," as well as "Can't Feel My Face," but he'd already earned his status by the time those rolled around.