The Weeknd's New Video Is Simple Fire
The "Can't Feel My Face" video mirrors Tesfaye's transformation into a pop star.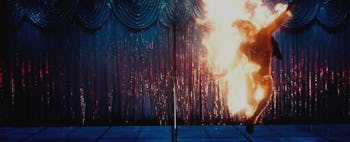 The Weeknd's new video for their hit single "Can't Feel My Face" is reminiscent of "Sussudio's," but updated with Max Martin production and CGI flames. Like Phil Collins in an oversized suit, Abel Tesfaye also performs to an uninterested crowd. But here, a knockoff Willem Dafoe chucks a Zippo at Tesfaye, creating a bonafide lituation.
Instead of trying to create a visual from the song's barely-there storyline, director Grant Singer gives us a video that uses the music itself as the focus. The "Can't Feel My Face" video also serves as a representation of Tesfaye's career trajectory. Most people are happy to ignore him in a dark room until he starts to light things up and bust some moves.
Check it out here on Apple Music's Connect.