Which direction will his newest spawn be?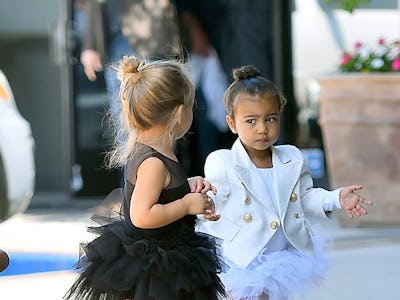 Hollywood Life
Kanye's love for his late mother is well known and well-documented. The West family could do well to honor her memory by naming Baby No. 2 after her.
The Kardashian brand is synonymous with names that begin with K. Kim's already two for two on husbands with K's as first names. It's already puzzling that North doesn't start with a silent K. Restoring the #brand with a K name would be a savvy move for the always-savvy Kimye.
Kanye grew close with Louise Wilson, the late Central Saint Martins College of Arts and Design professor who mentored Alexander McQueen, among others. He notably broke down crying and needed to take a break when talking about her with Zane Lowe. A little Louise would fit well with her fashionable older sister. Or, Louis could finally solve Kanye's noted Louis V. addiction.
Kanye's gotten all buddy-buddy with Sir Paul. Naming his kid for Macca could set up for future rock stardom, or at least make him/her a damn good whistler.