Newly Kanye Songs Find Him Embracing Contemporary Classical, Flipping The Weeknd
A new version of "Say You Will" and a flip of the Weeknd's "Tell Your Friends" hit Soundcloud today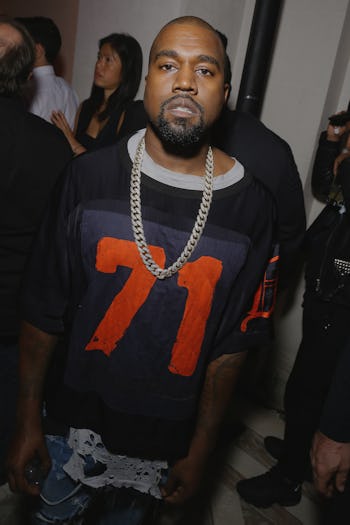 Getty Images
Kanye just set a new Soundcloud loose on the world, making public songs he'd had sitting on there for two weeks. Let me just say right off the bat: These are worth your time more than any of the recent bits and pieces from his supposedly-maybe-upcoming album SWISH.
First, there's a stunning new version of 808s and Heartbreak opener "Say You Will," backed by female chorus and work from concert violinist and Pulitzer Prize winner composer Caroline Shaw. This comes after she performed the layered vocal part heard on this recording with Kanye at the Democratic National Convention last Saturday (she also joined him on "Coldest Winter"), and her vocal ensemble Roomful of Teeth performed with him at his 808s and Heartbreak revamp shows at the Hollywood Bowl last month . Also — as New Yorker's Alex Ross pointed out — 'Ye attended a performance of her Pultizer Prize-winning Partita in May.
As the track goes on, it unspools into increasing disorder, with the backing vocalist devolving in muttering spoken phrases in the background and glitchy, morse-code-like melodic figures. It's truly an alluring and interesting concoction, fitting perfectly with the mood of the song, though it wouldn't have fit with the textures of the original album.
The second, less compelling track is a song Kanye made over the beat he produced by the Weeknd's "Tell Your Friends," off of Beauty Behind the Madness. It has the 808s, heavily Autotuned stylization, but falls short of matching the infectiousness of the Weeknd song proper.
This is some of the most interesting Kanye music in a while — though the date of recording is likely long in the past — so make sure to snag these, and keep them in rotation,