10 Bold Predictions About Kanye West's 'SWISH'
Will Vice President Taylor Swift show up?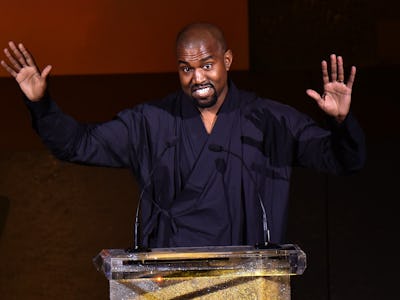 Michael Loccisano/Getty Images
Kanye West's SWISH still isn't here. Will it ever arrive? Probably, but who knows? Frankly, we're starting to get impatient. It's time to start guessing about what the album will sound like and be like.
1. It will consist entirely of never-before-heard songs.
"Only One," the album's unofficial lead single, came out in 2014; West has all but abandoned "Wolves"; and the awards-show hype of "All Day" and "FourFiveSeconds" was short-lived. He was supposed to perform at the VMAs, but just didn't want to in the end. Artists perform their singles ad nauseam. If West wanted us to care about these songs any more than we already do, he'd promote the hell out of them, which hasn't been the case.
2. Paul McCartney will be credited as an executive producer.
Macca has appeared on three Kanye songs, but as seen above, I don't think any of those songs will make the album. He was also supposed to be on the Rodeo cut "Piss on Your Grave," but the song ended up being only Travi$ Scott and Kanye. West likely won't want to abandon the Beatles legend entirely, so an executive producer's role is a convenient way to keep him attached to the project without necessarily needing to put him on a song.
3. Taylor Swift will get a guest verse.
The West-Swift lovefest has been in full effect since she introduced him at the VMAs. Taylor's gonna find her way onto SWISH, but it would be too easy to say she'll sing a hook. Nope. T-Swizzy is gonna drop a full 16-bar, leading to a million op-eds and blowing our fucking minds.
4. Kendrick Lamar will get a feature, too.
Kendrick mysteriously got a writing credit on "All Day," and a supposed remix verse surfaced months ago, but, so far, nothing has come of that potential collaboration. The two elite rappers don't have a proper song together, which will change with both of them at the top of their game.
5. It'll sound a lot poppier than 'Yeezus.'
Despite his initial steadfast defense of Yeezus, West was not happy that the album didn't sell as well as his previous work and didn't win any Grammys. I don't think it'll be as adult contemporary as "FourFiveSeconds" or as lush as Graduation, but West will be sure to have radio singles. As always, they're likely to fit into the contemporary musical landscape, but add futuristic elements that we couldn't have expected.
6. Producers won't be too "underground."
For Yeezus, West snatched up a bunch of lesser-known producers (e.g., Arca, Hudson Mohawke, Gesaffelstein, Evian Christ), who've gone on to bigger fame since the project. In 2015, however, we've seen formerly independent artists hook up with big-name producers (The Weeknd with Max Martin; Vince Staples with No I.D.) to find success. In a reversal of roles, even Skrillex earned pop cred and major sales through his work with Justin Bieber. West got the experimental urges out on Yeezus in grand fashion. He's unlikely to return to his own work with No I.D. and probably won't go so far as reaching out to a hitmaker like Max Martin, but bigger names like James Blake, Jamie xx, and even Skrillex are not out of the question.
7. Theophilus London will become a superstar.
London's been the unofficial spokesperson for the album, giving irregular updates about how life-changing he thinks it'll be. He barely appears on "All Day," yet he's still so excited! He must know he's got a mega-feature that'll blow him up superstardom once we hear it. Or he's just delusional. He did tweet this in all-caps:
8. He'll change the name and possible cover art before it comes out.
There's no way that an all-caps SWISH is actually going to stick around. I wouldn't be surprised if he forgot about that tweet by now.
9. It won't be out until next year.
2015 has been an incredibly strong year for rap music. If West wants to win a Grammy, he may have a tough time competing against Kendrick Lamar's To Pimp a Butterfly, Drake's If You're Reading This It's Too Late, and J. Cole's 2014 Forest Hills Drive, among other likely nominees. Those guys — except for Drake, who's got Views from the 6 in his pocket — are, presumably, going to take 2016 off when West can dominate the airwaves and the awards season.
10. It'll be the greatest piece of recorded music ever.
Why not?