Where Is 'SWISH'?
And why is Theophilus London the unofficial spokesman?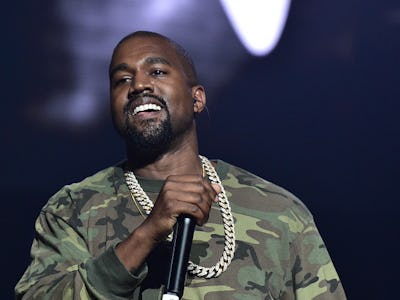 Prince Williams/WireImage via Getty Images
Regardless of your expectations for Kanye West's upcoming album, SWISH, if you're reading this, you probably want to hear it. Soon. Last night, as HotNewHipHop shows us, collaborator Theophilus London took to Twitter to give another update on the album's status.
This isn't the first time London, for some reason, has peeped SWISH's readiness and imminent release. The album's been "done" for nearly a year when West, allegedly, played the album three times at a September listening party in Paris.
London, however, backtracked just a few days later, tweeting that the album was still a work in progress.
A couple months later in December, Seth Rogen told Rolling Stone that West rapped the entire album to him in the back of a limousine van.
There's no lyrics, only beats. … So he raps the whole album, and after each song, he stops it, like, 'So what do you think?' We were in the van for two hours!
West's next move was to release actual music: "Only One" on New Year's Eve and "FourFiveSeconds" in January. He then took a detour with his YEEZY SEASON 1 fashion line for adidas, which included the debut of "Wolves," later performed on Saturday Night Live's 40th Anniversary special in February. After that, West told Power 105.1's Breakfast Club that the album was 80 percent finished. All the fuss seemed worth it, though, when he brought flamethrowers to the BRIT Awards to debut "All Day."
In March, we finally got an album title:
But then in May it changed:
Until London's tweets last night, that was our last update. So what's with all the misdirection? West could likely drop the album whenever he pleased, if that were what he wanted. The delayed release seems to be a hype machine, as well as a form of crowdsourcing. London may have enjoyed the album (the 900 times he's heard it), but it's possible someone more important in the room told him to keep working. SWISH's perennial delays are calculated moves from a calculating artist who refuses to put out subpar work.